3D printing leader Stratasys has introduced the Objet500 Dental Selection 3D Printer for larger dental and orthodontic labs that require volume production of highly precise, life-like, multi-colour, multi-material models.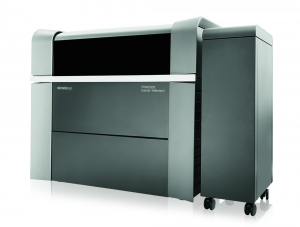 The new Stratasys printer produces dental models with gum-like softness and colour, a wide range of natural tooth shades and nerve canals or other anatomy in contrasting materials.
"Seven months ago, Stratasys transformed digital dentistry by enabling ultra-realistic dental models to be 3D printed in a single run. This new level of flexibility, precision and efficiency was aimed to allow labs to streamline their digital workflow while improving their competitive edge," said Steffen Mueller, General Manager, Dental Solutions, and Stratasys.
"Now with the launch of the Objet500 Dental Selection 3D Printer, we are adding increased throughput and productivity to this winning formula by featuring Stratasys game-changing, triple-jetting technology on a larger platform. We believe this is a 'must have' 3D printing solution for larger dental and orthodontic labs that want to provide a superior customer experience while maintaining profitable volume production."
The new printer has a large build area which is set to allow dental labs to drastically increase throughput.
Some application examples include implant testing on stone models with a gingival mask that mimics the very look and feel of real gums for accurate evaluation of the emergence profile; models requiring gum-like materials, even mixed with rigid features; jaw models 3D printed directly from CBCT data with high-definition tooth, root and nerve canal anatomy rendered in contrasting materials.
"The Objet500 Dental Selection is an especially attractive solution for larger dental restorative and orthodontic labs that are interested in implementing digital dentistry end-to-end, from intra-oral scanners to realistic models, and which serve a wide range of dental applications in larger production volumes. Because multiple applications can be produced in a single print run, the Objet500 Dental Selection requires fewer interventions which frees lab staff for more important operations," Stratasys said in a press release.
The printer uses Stratasys flexible and rigid PolyJet dental materials, including VeroDent (MED670), VeroDentPlus (MED690), VeroGlaze (MED620) and Clear Bio-compatible (MED610). Additional supported materials include VeroWhite, VeroMagenta, TangoPlus, TangoBlackPlus, a range of gum-like Digital Materials, and Digital Materials in a range of natural tooth shades.
For more information, please go to www.stratasys.com