Home
Tags
Capital raising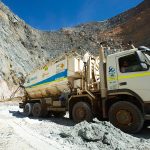 Orica announced today that it is to acquire Exsa, Peru's leading manufacturer and distributor of industrial explosives.
Freedom Foods Group has unveiled plans to invest approximately $29 million to upgrade the capacity of its Shepparton dairy facility. According to the company's statement,...
Fastbrick Robotics Limited (FBR) has successfully completed an $8 million capital raising to accelerate the development of its Hadrian X programme. The capital raising, completed...