Home
Tags
HP Jet Fusion 3D 4200.
Tag: HP Jet Fusion 3D 4200.
HP has expanded its industry leading HP Multi Jet Fusion 3D printing technology into Australia, with Brisbane-based iOrthotics becoming the first Australian company to adopt the HP Jet...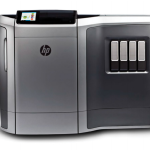 Hewlett Packard (HP) yesterday unveiled the world' first production-ready commercial 3D printing system at SME's RAPID 2016, the world's foremost additive manufacturing conference. HP said...