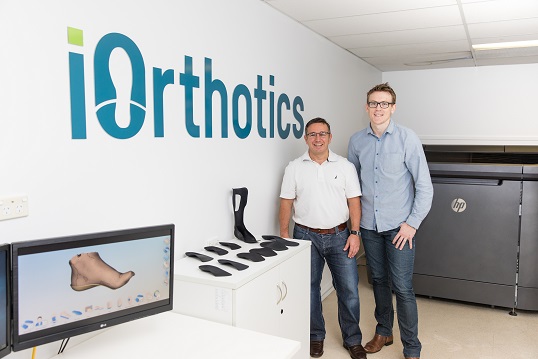 HP has expanded its industry leading HP Multi Jet Fusion 3D printing technology into Australia, with Brisbane-based iOrthotics becoming the first Australian company to adopt the HP Jet Fusion 3D 4200 Printing Solution.
Dean Hartley, founding director and general manager, iOrthotics, said the move will allow the company to produce stronger custom made orthotics devices faster and with almost zero waste.
"Patients depend upon their orthotics for comfort and wellbeing, so it is only natural that they expect these devices to be strong, sturdy and dependable," Mr Hartley said.
"The extensive research and testing we conducted with the University of Queensland provided the empirical evidence that devices manufactured by HP's Multi Jet Fusion 3D printing technology are 40-60% stronger than those produced using traditional polypropylene milling."
iOrthotics is a subsidiary of my FootDr – Australia's largest podiatry group – and supplies custom made orthotic devices to over 50 clinics, with a view to extend its reach to 130 clinics over the next few years.
Damian Vassallo, co-founder of iOrthotics and non-executive director of my FootDr, said the dramatic increase in scalability, speed, and volume afforded by HP's Multi Jet Fusion technology will enable the company to pursue rapid growth.
"As a rapidly growing business, we needed to innovate our manufacturing process to keep up with demand. It was impractical to continue scaling up subtractive milling, which could produce just 30 plastic devices per day. Using HP Multi Jet Fusion technology, our output has increased to 120-130 devices per day," Mr Vassallo stated.
"With the ability to extend our capabilities, we are now undertaking orthotic and prosthetic fabrication and offering a 3D bureau printing service for engineering and industrial clients. It has been a quantum leap in technology, and our final investment decision has been validated."
"In addition, we recognised the economic and environmental impact of material wastage. Subtractive milling results in 95 per cent of the polypropylene being wasted, whereas HP's Multi Jet Fusion technology has reduced wastage to less than one per cent of the material."
Rob Mesaros, managing director, HP South Pacific, said the company aims to disrupt the $12 trillion global manufacturing market, and to make 3D printing a core part of the Fourth Industrial Revolution where digitisation drives nearly everything in the world.
"The world is going through a major economic and industrial transformation that impacts everything – from the cars we drive, to the clothes we wear, to the education and jobs our children will have in the future," Mr Mesaros remarked.
"All industries will go through change in the Fourth Industrial Revolution, but perhaps none as dramatically as the manufacturing sector. Australian manufacturers like iOrthotics are truly leading the way – transforming their business and positioning themselves for growth by taking full advantage of this technological shift."
Image provided