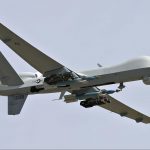 General Atomics Aeronautical Systems (GA-ASI) has been selected by the Australian Government to provide Armed Remotely Piloted Aircraft System (RPAS) for the Australian Defence...

Over the years of experience, Westside Packaging Systems Australia is dedicated to providing you with the quality packaging supplies in Melbourne to suit all types of industries and applications. We ensure you to offer the personalised service with satisfactory customer service. We are committed to supplying durable strapping machines in Australia to your secure your materials and products. Being one of the leading steel strapping suppliers, we also offer you a full range of strapping tools for sale. Also, we support installations with the help of our factory trained service technicians and provide you quality strapping toolkit. Our Products Semi-auto strapping machine Polyester Strapping Polypropylene Strapping Poly Strapping Machines Polywoven & Composite Strap Seals & Buckles Angleboard Stretch Film & Top Sheets Protective packaging materials Cardboard corner protectors
Issues related to plumbing is the most common problem we face in our day to day life, as they can come at any time. Kolch Plumbing is a Melbourne based plumbing service providers. Kolch Plumbing provides best in class services to its customers, 24x7. With the team of expert plumbers, Kolch Plumbing is able to solve all the plumbing problems with ease and it doesn't matter whether the building is old or new.