The winners of the 2013 VACC Automotive Design Awards were announced on Thursday night in an event held at Melbourne's Federation Square, according to a media release.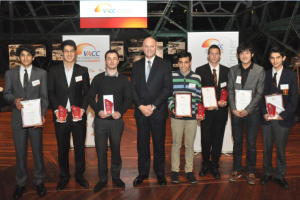 Secondary and tertiary students from different colleges and universities were recognized in front of an audience composed of members of the automotive manufacturing sector, including the Australian Grand Prix Corporation, Melbourne Convention Centre, Australian International Motor Show, lecturers, trainers and media.
Minister for Manufacturing David Hodgett presented the awards to the winners of the three categories  namely design & drawing, model making and essay writing. He also commended the recipient of the overseas scholarship and the individuals who will have a chance to experience working at the Ford Design Centre.
"The level of talent on display was highly impressive. The quality and quantity of automotive designs is testament to Victoria's reputation as Australia's hub for automotive and advanced manufacturing," Mr. Hodgett said.
The winners, whose designs were judged by representatives of Australia's biggest car manufacturers, are the following:
• Secondary Design: Todd Linnett – Mildura Senior College
• Secondary Model: Hamzah Brown – Trinity College, Kew
• Secondary Essay: Eddie Gaudernack – Simonds Catholic College
• Tertiary Design: Daniel DeBono – RMIT
• Tertiary Model: Anthony Farnell – Monash University
• Tertiary Essay: Daniel Debono – RMIT
• Overseas Scholarship: Kouhei Kawakami – Monash University
• Ford Work Experience: Hamzah Brown – Trinity College, Kew
• Ford Work Experience: Aman Bhatti – Lavalla Catholic College
Winners in the model making and design categories, along with their training organizations, each received $3,000, while winners in the essay category received $500.
"The VACC Automotive Design Awards is a fantastic opportunity for Victorian students to display their work and have it viewed by prominent members of the Australian automotive industry," said Mr. Hodgett.
Mr. Hodgett said that while the automotive sector is facing complex challenges at the moment, the Coalition Government is still committed to supporting the local car industry and encouraging innovation in car manufacturing.
$4.8 billion will be invested in training subsidies alone over four years, and the Victorian Coalition Government will be investing a record $1.2 billion a year in vocational training.
"The Victorian Coalition Government recognises the value of a skilled and creative workforce, and there are a wide variety of vocational training courses available in the automotive sector."
"We hope that the students who are involved in the awards can play a major part in the growth of the industry and, from the amazing work displayed through these awards, I am confident that the future of the automotive industry is bright indeed."
Since its establishment in 2006, the VACC (Victorian Automobile Chamber of Commerce) Automotive Design Awards has served as a wonderful opportunity for secondary and tertiary students in Victoria to display their talent by showing off their course work in public.
VACC is the peak automotive industry body in Victoria and Tasmania, with more than 5,300 small and medium sized business owners, employing approximately 50,000 employees.