A state-of-the-art mining machine which will soon be used in the mines of Western Australia was unveiled earlier this week in Tasmania.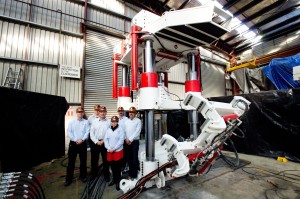 The Universal Boxhole Boring Machine (UB1000), designed and built by mining equipment manufacturer Terratec as a part of its Raise Boring line, is a promising product of the advanced manufacturing sector in the State.
"It's exciting to see another multi-million dollar example of Tasmania's advanced manufacturing expertise ready for export," said Premier Lara Giddings in a media release.
"Last week we saw the latest Incat ferry depart Tasmania and soon this boring machine will be in operation in the mines of Western Australia where it will hopefully attract attention and more customers."
The UB1000 was built entirely in Terratec's facilities with the vision of bringing an innovative solution to the market. It is designed to boxhole sections up to 1.06m diameter x 100m long and it can also ream conventional raises nominally 1.8m diameter x 200m deep, according to the company.
This will allow the safe and efficient execution of slots in the mines with a fully automated Raise Drill, instead of doing the very dangerous practice of ladder raising in deep underground mines.
Ms. Giddings said the advanced manufacturing sector has always been a priority in the Tasmanian government because of its potential to create highly paid jobs.
"These are the types of jobs we need as we continue to diversify the economy," said Ms. Giddings.
"Advanced manufacturing has been identified as a priority sector in the Tasmanian Economic Development Plan because of its growth potential."
The Tasmanian Premier said skills training in order to ensure that workers are able to take advantage of the opportunities from advanced manufacturing will be a key focus in the Tasmanian Chamber of Commerce and Industry jobs forum which will be held in August.
Meanwhile Terratec Managing Director Anton Jurasovic said Australia's reputation as a high quality manufacturer was a big factor for them to secure the contract against competitors from Europe.
"The client actually mandated that the machine be Australian built wherever possible," Mr. Jurasovic said.
"It took some effort to convince them that a quality product could be sourced from Tasmania, but in the end we have proven that the skills and infrastructure required to design and manufacture a complex machine such as this still exist in our state."
Jurasovic said they expect more units to be sold in Australia and South America after the machine's capability has been tested. They also have orders for other related machines to be delivered to South America later this year.
Kingston-based Terratec was established in 1990 and has grown to be a world-renowned Australian designer and manufacturer of Tunnel Boring Machines, Raise Boring Machines and other custom-made products for tunnelling and mining applications. The company has sold machinery to several countries including Canada, USA and, most recently, to Mexico and Argentina with interest in Peru, and China.