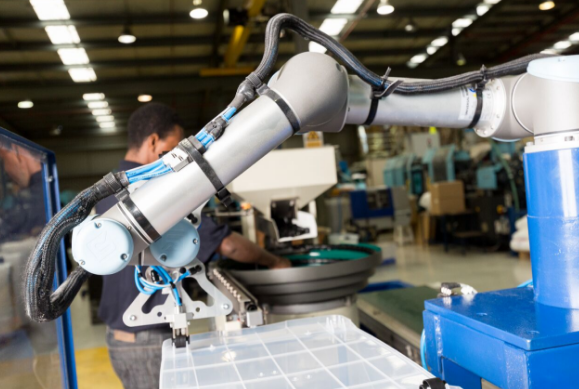 New Zealand's geographic isolation and high labour costs compel manufacturers to embrace innovation and automation in their production processes to compete with international players.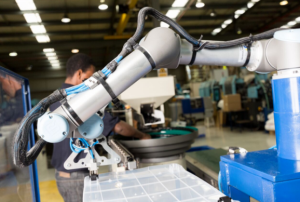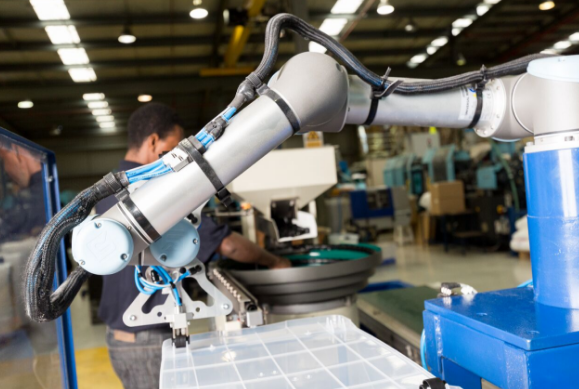 Faced with these challenges, Auckland-based injection moulding company TCI New Zealand (TCI) turned to Universal Robots to provide an automated solution that would offer a more cost-effective means of producing its customer's products.
TCI deployed two of Universal Robots' industrial robotic arms, the UR3 and UR5 to perform labelling and assembly tasks for the company's EasiYo Yoghurt Maker line, as well as its storage bins, thus relieving employees of repetitive assembly processes and ensuring smooth production flow.
"Previously we were paying two employees to work in 12 hour shifts to ensure around-the- clock production of our EasiYo Yoghurt Maker," said Quintin Fowler, Manager Director at TCI.
"If one employee didn't turn up for work it meant the entire production line would be halted. This wasn't really financially sustainable for us so we were looking for an automated solution that would guarantee quality assurance and help us to reduce costs."
The UR3, which is a compact table-top robot capable of handling payloads up to three kilograms, was the first machine to be deployed by TCI, with the costs of the robot recouped six months after it was first purchased. This robot has a reach radius of up to 500mm and features 360-degree rotation on all wrist joints and infinite rotation on the end joint.
The rapid return on investment on UR3 encouraged TCI to purchase the UR5, which helps manufacturers automate repetitive and dangerous tasks with payloads up to five kilograms and a reach radius of up to 850mm. The UR5 is suitable for collaborative processes such as picking, placing and testing, with the payback period expected to be less than one year.
"We paid off the UR3 within 6 months, which means we can reinvest in further product development and innovation. We also saved around 75 percent on yearly product assembly labour costs for the UR3 and UR5," said Mr Fowler.
"The UR3 and UR5 are very flexible robots. They are very easy to reprogram, which is why we use the UR5 to help assemble all of our storage bins. The robot can be reset to perform different jobs depending on the size of the bin."
On top of delivering swift return on investment and massive cost-reduction, Universal Robots' small and lightweight robotic arms also increased productivity and worker safety.
The robots' force limit safety feature automatically stops the robot from operating when its movement is obstructed.
"One thing I loved about Universal Robots was that we didn't have to worry about guarding," Mr Fowler added.
"Whereas a lot of the other robots in the market guarding was an issue because you'd have to use safety barriers for all the machines which just complicates the situation."
TCI, which is one of the largest privately owned plastic injection moulding companies in New Zealand, manufactures a vast array of products, including building products, components used in instrumentation, navigation, rescue and communications, as well as a range of retail products, including homewares, garden products and outdoor furniture for companies across New Zealand and the rest of the world.