THE FEATURED SERIES
Welcome to the Feature Series for Australian Manufacturing, where each month we will shine the focus on one particular Australian manufacturer and breakdown what really gives them the competitive advantage, in an otherwise difficult sector.
This week, we take a look at Technology, and how CMP Controls has been utilising Technology in the workplace. If you missed last weeks story, just a brief update: CMP Controls is an Australian-based manufacturer of lighting control gear.  CMP Controls acquired the manufacturing plant and business from Austrian-based TRIDONIC.ATCO late in 2013.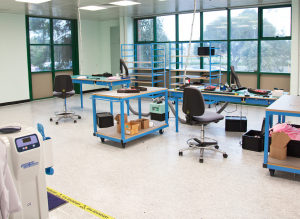 Technology is all around us and there's no better example of this then on the factory floor. Taking a walk through the facilities of CMP Controls, one can clearly see how countless investments have been spent to improve operations in manufacturing and streamline certain tasks.
Like with automation, technology is designed to simplify the process and make work easier. The facility is filled with countless forklifts, support lifts and trolleys, with very few items actually being hand lifted. Over head cranes are employed throughout the facility to ensure all extremely heavy items are carried with ease across the factory floor.
Reducing workplace injuries is something every employer looks at reducing, or completely removing from the workplace, and with investments in such process-assisting technologies, CMP minimises the risks from the day-to-day operations on the manufacturing floor.
Manufacturing magnetic control gear requires a considerable amount of automation, which we touched on last week, but the company also relies on other technologies in the production, such as electronic testing equipment and measuring devices to ensure all products are quality approved and ready for distribution. As a global exporter, a fully-functional laboratory is on-site, to ensure products meet the requirements of certain conditions and temperatures, in various environments.
The company assembles LED lighting components and fixtures. LED lighting is an electrostatic-sensitive devices (ESD), which basically means they can be damaged by common static charges which build up on people, tools, and other non-conductors or semiconductors. For this reason, the assembly area is floored with anti-static flooring and employs high-end,  anti-static devices. 
The sales team and warehouse all embrace a cloud-based working environment and ERP system, in order to stay on top of tasks, and to ensure smooth distribution of all products. Fingerprint scans on the entrance of the factory floor, are also used to efficiently monitor the hours of all employees.
Although there was much more to cover, especially on such a big topic, but from what we gathered from the facility, the use of technology at CMP Controls  really allows for the company to run efficiently, reduce workplace injuries and produce a higher quality product.
Would you like your business featured on Australian Manufacturing? Tell us about your business.