Tesla has inked a contract with Canadian Bacanora Minerals Ltd and London investment company Rare Earth Minerals for the supply of lithium for its gigafactory that is currently being built in Nevada.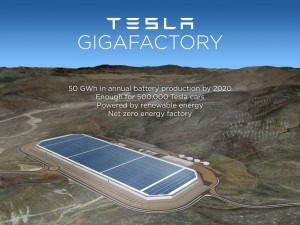 Bacanora and Rare Earth Minerals own the Sonora Lithium Project, a mineral-rich site in northern Mexico that will eventually supply lithium hydroxide to the electric car maker over a five-year span.
Since the mine is not yet functional, the deal requires the mining companies, now collectively referred to as the Sonora Lithium Project Partners, to raise funding to construct a mine as well as processing facilities over the next two years. Tesla can also contribute to the funding.
At first, the mine will have the capacity to supply 35,000 tons of lithium compounds (namely, lithium hydroxide and lithium carbonate) per year, eventually expanding to 50,000 tons per year.
"This Supply Agreement with Tesla represents a vital and monumental step forwards in the commercialisation of the large lithium resources that the Company holds, together with its partner REM, in Northern Mexico. We anticipate this contract to rapidly accelerate the development of the Sonora Lithium Project, which we expect will prove to be invaluable in an increasingly lithium hungry world," said Colin Orr-Ewing, Chairman of Bacanora.
Tesla's new $5 billion battery factory in Nevada will be aiming to reduce battery costs by 30% or more, partly by bringing in in-house materials suppliers.
The first phase of the battery factory, under construction near Reno and in partnership with Japanese electronics giant Panasonic, is expected to be completed next year.
When the battery factory is fully built out, it will be capable of making 35 gigawatt-hours of battery cells, which is more than the combined total of all current lithium-ion battery plants in the world.