Global technology leader and trusted partner of the Australian Defence Force, Thales, has announced that it has teamed up with Quickstep, the renowned specialist in advanced composites, to collaborate on the next generation Hawkei protected light vehicles.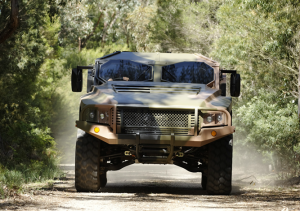 According to the press release by Thales, Quickstep has been awarded a pre-contract to use its patented systems to supply the vehicle's bonnet, side skirts and mud guards.
The work will be done at Quickstep's Bankstown facility in NSW and is "is conditional on Thales securing a long-term contract to supply up to 1,300 Hawkei vehicles to the Department of Defence."
"Like Thales, Quickstep is recognised for innovation and cutting-edge research," said Kevin Wall, Thales Australia's Vice President Protected Vehicles.
"Quickstep's record on projects such as the Joint Strike Fighter and Lamborghini performance cars is testament to their unique skills. It's great to see Australian companies teaming up to deliver the next generation of protected light vehicles to the Australian Defence Force."
Thales has been working with numerous specialist suppliers to improve the design of the vehicle's components, and Quickstep is the latest Australian company to team up with Thales.
Quickstep will utilise its innovative "Resin Spray Transfer" (RST) technology developed for the automotive industry.
"We are delighted to secure this letter of intent from Thales, which is one of the world's leading international electronics and systems groups servicing the defence, aerospace and security markets.  Thales will be one of the first customers for this new highly efficient and competitive technology for the automotive industry," said Quickstep's Executive Director Mr Philippe Odouard in a press release.
"We are excited to be involved in the Hawkei project.  We look forward to the project's initiation from the DMO and, on our current expected schedule, anticipate delivering first parts in 2015.  This is a revolutionary carbon fibre composite technology which will reduce the weight of key components by up to 50%, representing a big improvement.  This bonnet is made in one piece using a sandwich structure, the application of the RST process to a sandwich structure is an important step forward dramatically reducing assembly costs in addition to saving weight. This agreement enhances our opportunity to sell the RST technology to the world's leading automobile producers. This is a highly innovative technology which demonstrates a positive future for carbon fibre manufacturing in Australia."
Final approval of the LAND 121 Phase 4 project is expected around 2015.