Thales Australia has won the tender to develop a single air traffic management system that will unify the separate systems used by the Royal Australian Air Force and Airservices Australia.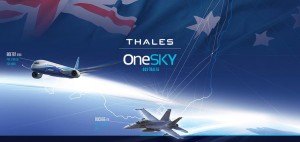 According to the official press release, the system will replace Airservices' Australian Advanced Air Traffic System (TAAATS) and the Department of Defence's Australian Defence Air Traffic System (ADATS), which are nearing the end of their service lives.
"This is an essential first step for the delivery of an important piece of national infrastructure that will ensure the continued safe and efficient management of our skies. Thales has worked closely with Airservices over many years in delivering the current system, but as that reaches the end of its operational lifecycle we will use our experience to implement new technologies that will make life easier for air traffic controllers and airline operators," said Thales Australia CEO Chris Jenkins.
"To secure this Advanced Work contract we worked very closely with our partners Frequentis and Boeing Defence Australia, whose extensive military aviation expertise enabled a comprehensive offering ideally suited to local conditions. Thales is dedicated to its long-term investment in Australia – building skills and innovating across a wide range of advanced systems for transport, security and defence."
Minister for Industry, Lily D'Ambrosio, welcomed the announcement, stating that the contract will help sustain highly-skilled jobs in Melbourne and strengthen Victoria's export industry.
"This contract is a win for Victorian industry, with the creation of around 400 jobs. This is the first time one company will provide an integrated large-scale single system for civil and defence purposes," the Minister said.
Thales manufactures the successful Bushmaster and Hawkei vehicles at its Protected Vehicles site in Bendigo, where it employs 230 people.
The announcement was made at the Avalon air show by infrastructure minister Warren Truss.
"This will unify Australian skies. Once implemented, Airservices Australia and Defence will share technology and information, giving Australia the most advanced and integrated air traffic control system in the world," Mr Truss said.
"It will place us in a position to manage forecast growth of air traffic movement in Australia, of as much as 60 per cent by 2030, minimising delays for the travelling public. It will also ensure that Australian aviation remains at the forefront of technologically advanced air traffic management and safety, while optimising newer technologies on modern aircraft to drive greater efficiencies and seek opportunities to improve environmental outcomes."
OneSky is set to be introduced through a phased transition from 2018 to 2021.