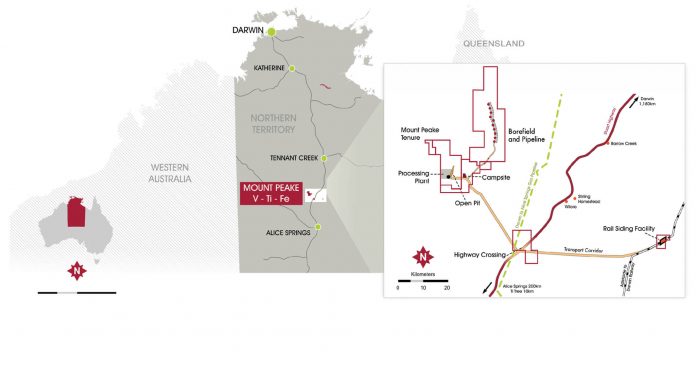 Minister for Industry, Science and Technology Karen Andrews, has awarded Federal Major Project Status to TNG Limited's 100%-owned Mount Peake Vanadium-Titanium-Iron Project in the Northern Territory.
The Mount Peake Project is a world-scale strategic metals asset that is intended to be developed across two separate sites in the Northern Territory with a mine and processing facility life of 37 years.
The Project is expected to deliver substantial new infrastructure in the NT including a mining operation, beneficiation plant and TIVAN processing facility, which is proposed to be located at the Middle Arm Precinct in Darwin.
TIVAN is a patented treatment process designed by TNG. By utilising the TIVAN Process, TNG will be able to extract three high-value strategic elements – titanium dioxide, vanadium pentoxide and ferric oxide – from the magnetite concentrate to produce high-purity products for export from Darwin.
The Company estimates an annual production of 100,000 tonnes of titanium pigment (the base material for outdoor paints and coating), 6,000 tonnes of vanadium pentoxide (for use in steel strengthening and alloys and VRFBs) and 500,000 tonnes of iron oxide (for use in steel production).
TNG's Managing Director & CEO, Mr Paul Burton, said the company is currently progressing a FEED study with German-based engineering firm SMS group, which will provide confirmation of the final capital expenditure required for the Beneficiation Plant and the TIVAN processing facility which will then lead to an Engineering Procurement Construction (EPC) proposal for delivery.
"The award of Major Project Status by the Australian Federal Government is a testament to the substantial economic and social benefits expected to be delivered by the Project and its potential strategic significance to the Northern Territory and Australia in expanding and diversifying our critical minerals industry," he continued.
"Securing the support and involvement of the Australian Government in helping to facilitate the development of a global scale critical minerals project like Mount Peake is significant for TNG and its shareholders.
"It will assist in ensuring certainty of process for the remaining permitting and approvals required both for the Mount Peake mine site and the Darwin TIVAN® processing facility and represents an important endorsement of the Project as we embark on the next stages of project financing."
He said in parallel with the FEED study, the Company is advancing its green energy strategy with the establishment of a VRFB business unit and a joint partnership with SMS group to develop a carbon-neutral hydrogen production technology to be applied to the TIVAN® process.
"Additionally, TNG and the Mount Peake Project is well positioned to contribute to the growing demand for sustainable green energy through TNG's newly established VRFB business unit and its strategic partnership with SMS group to develop a CO2-neutral technology for green hydrogen production," Mr Burton concluded.
According to TNG's statement, the development of the Mount Peake Project is expected to create about 1,600 jobs during the construction phase and as many as 1,000 long-term jobs during the operational phase.