ABC Radio's flagship current affairs program AM is doing a special reporting series on the state of the Australian manufacturing sector beginning today, June 17.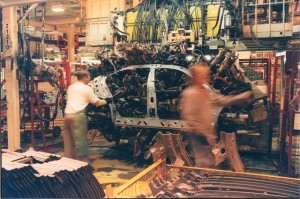 According to a media release from ABC, Tony Eastley and the rest of the AM team will be travelling across three states this week to visit a variety of workplaces including niche manufacturers that are thriving even in markets abroad.
The team is broadcasting from Adelaide today from a car parts manufacturer. They will be moving to Melbourne tomorrow to visit a leading cutting and grinder company and to tackle the food industry until Wednesday.
On Thursday, Eastley will visit an aerospace and defense firm that manufactures parts for the F35 Joint Strike Fighter and on Friday the AM team will be reporting from one of Australia's oldest, family owned businesses located in Gosford. They will also be discussing the future of small businesses in Australia.
Along with AM's coverage, ABC News 24 will also be focusing on manufacturing-related issues for this week through a series of "Made in Australia" special reports and interviews. ABC News Breakfast, which is hosted by Virginia Trioli and Michael Rowland, will be crossing live to Eastley every morning.
The series' focus on manufacturing, which includes reports on the automotive and food sectors, highlights the pressure that the entire industry is currently facing due to the strong Australian dollar, high cost of labor, high cost of materials and other economic circumstances.
Last week the Australian Productivity Commission released its latest review detailing the rates of combined assistance that the different manufacturing subsectors received for the period of 2011/12.
The review shows that the rate of combined assistance, which includes programs, tariff and regulatory assistance, was 9.4 percent for car makers in 2011-12. This rate, which grew from 8.7 in the previous period 2010/11, remains well above the average for manufacturing, which is about 4.1 percent.
The food, beverage and tobacco sector, however, received assistance at a rate of only 3.3 percent. The rate has been constant for the past three years, and is a decrease from the 3.4 percent that was allocated to the sector in 2008/09.
Aside from the motor vehicle and parts sector, five other sectors surpassed the rate of combined assistance for food processing. Textile, Clothing & Footwear received 7.3 percent, Wood & Paper products received 4.6 percent, Printed and Recorded media got 3.4 percent, Metal and fabricated products received 4.7 percent, and Furniture and other products received 4.4 percent.