Toowoomba manufacturing jobs for international workers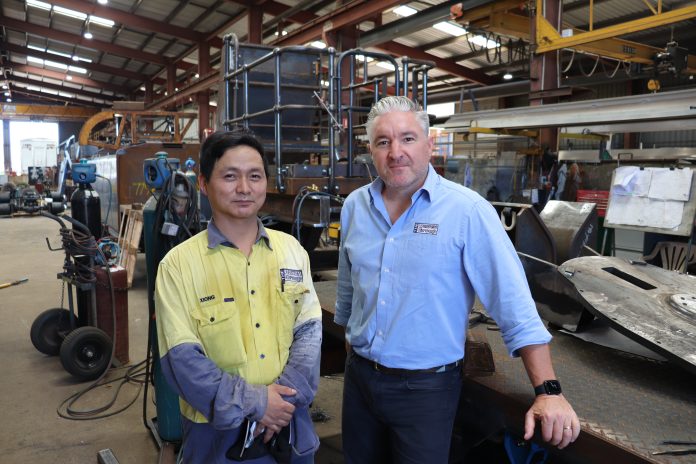 Media Relase by Toowoomba and Surat Basin Enterprise (TSBE)
It's been 14 years since Xiong Xue left his home land to pursue a career in a new country.
After landing in Australia, Mr Xue promptly landed a manufacturing job at The Davey Group in Toowoomba who were looking to expand.
Managing Director of The Davey Group, Tony Davey said Mr Xue, otherwise known as Cher, was already quite skilled but thrived with the new training opportunities he was provided.
"Cher now works to build road transport equipment in our Toowoomba facility, and is an incredibly hard-working and loyal employee," said Mr Davey.
"When he first moved here we purchased his family bikes so they could commute around the local area."
"We pride ourselves on family strong family values at The Davey Group so it was only fitting that we did everything we could to help him settle in," said Mr Davey.
Cher lives in Toowoomba with his wife and two children and appreciates the opportunities Australia has provided to him and his family.
"Australia is a beautiful country and I have a good life," he said.
The Davey Group is an internationally competitive civil, structural and mechanical engineering group offering solutions across a range of products and industries.
The business started in 1998 with 30 people, and has now grown to more than 150 employees.
Mr Davey said there's a big focus on training with the company currently employing around 20 apprentices.
"We've always found that the more we look after staff, the more they look after us," said Mr Davey.
TSBE General Manager for Energy and Infrastructure, Lance MacManus congratulated The Davey Group on their long list of long-serving employees.
"Toowoomba's manufacturing sector is booming at the moment so it's great to hear how companies like this are taking care of their employees and offering them opportunities to grow," said Mr MacManus.
"The global workforce shortages mean that we want to attract more workers to our region to work on some major projects that are in the pipeline."
The manufacturing industry in Toowoomba is a major contributor to the local economy.
With 609 businesses in the city identifying as manufacturers who employ over 6,600 full time staff, the sector was amongst the top five most productive industries in the region, generating $1.352 billion in 2020/21.
Image Supplied: www.tsbe.com.au