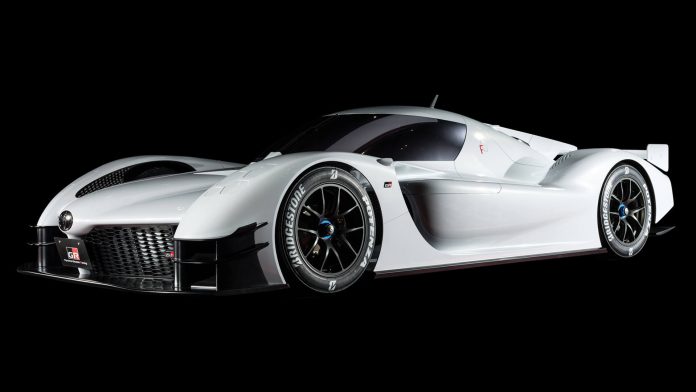 Toyota has unveiled its GR Super Sport Concept and test car at the Tokyo Auto Salon, which is seen as the starting point for the company's plan to develop sports cars from active race cars.
The vehicle, which was developed by Toyota GAZOO Racing, incorporates hybrid technology developed for Toyota's TS050 Hybrid race car that competes in the World Endurance Championship (WEC).
Composed of mostly the same main parts as the TS050 Hybrid, the newly revealed concept is powered   by a 735kW 2.4-litre twin-turbo V6 engine and a Toyota Hybrid System-Racing (THS-R) powertrain, which have been honed through competition racing.
GAZOO Racing Company president Shigeki Tomoyama said the concept reflects the team's aim to ensure that technologies and know-how acquired in motorsport are fed back into new production vehicles.
"Rather than developing production cars into sports cars, we aim to work out how to incorporate the know-how developed through races and rallies into production cars," Mr Tomoyama said.
"Although it will be some time before you all have the opportunity to get behind the wheel, I hope that the GR Super Sport Concept will give you a taste of what we aim to achieve with our next-generation sports cars."
Toyota believes its continued participation in the WEC is highly beneficial in terms of developing cutting-edge hybrid systems and EV systems, with fuel economy-enhancing technologies and other developments gained through such tough technological competitions already being fed back into production vehicles.
Comparing the GR Super Sport Concept with Toyota's e-Palette Concept – a new shared mobility model for communities that was unveiled at this month's Consumer Electronics Show in Las Vegas – Mr Tomoyama said:
"If the e-Palette Concept is the next generation of the horse-drawn carriage, the GR Super Sport Concept would be the polar opposite as the next-generation racehorse. Its appeal is more personal, like that of a much-loved horse to its owner," he remarked.
"Despite the differences between the two concept models, both are electrified vehicles equipped with the latest IT technologies and are set to become safe and environmentally friendly connected cars."
"Even as electrification and IT technologies accelerate, the availability of different types of cars, including polar opposite models like the GR Super Sport Concept and the e-Palette Concept, means that they will never become a commodity."
"Furthermore, it is an unchanging fact that people want to travel freely, access distant places, and to get there quicker than everyone else in attractive vehicles. The feelings that one has for a car that can do all this are rich and heart-pounding," he concluded.
Image credit: www.toyota.com.au