The US Department of Energy's (DOE), Office of Energy Efficiency and Renewable Energy (EERE) has announced that the first 24 participants in its Advanced Manufacturing Workforce Development (AMWD) Program have successfully completed the training provided.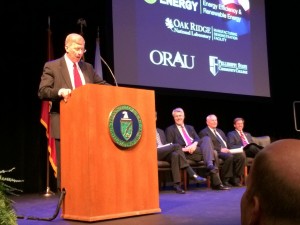 According to article on the official website of DOE, the students – 14 veterans, three active duty military personnel, two reservists and five civilians – completed three weeks of classes at Pellissippi State Community College, two weeks of training at the ORNL Manufacturing Demonstration Facility (MDF), and one week of carbon fibre composites training at the Science & Technology Park on ORNL's main campus.
"There are literally thousands of veterans entering the civilian workforce each month," said ORNL engineer Dr Lonnie Love, who led the program at MDF.
"I've been so impressed with this inaugural class, and I love to work with our veterans.  Our industry partners are looking for a highly skilled workforce, and the veterans already bring to the table the discipline, teamwork, and commitment needed to develop these very specialised skills."
A ceremony was held at the Pellissippi, where Deputy Secretary of Energy Daniel Poneman announced that the program will continue this fall by engaging 20 students for three semesters of training and a paid internship in the private sector. DOE also plans to provide 3D printers to the community college.
"To meet the evolving needs of the advanced manufacturing industry and keep us on the path towards a thriving 21st century economy, we have to get people trained and into the workforce. The Advanced Manufacturing Internship shows how industry, government and academia can join together to tackle critical national challenges and create the workforce we need for the future," Deputy Secretary Poneman said.
"This is a remarkable public private partnership. The Department of Energy will pay student tuition and fees for the certificate program and provide support to cover program costs. The hosting companies will provide stipends, housing, and travel for the interns. The Department is also looking at opportunities to replicate the program elsewhere in the nation, especially where military bases and community colleges can collaborate to train transitioning service members."
DOE has begun accepting applications for the second class of advanced manufacturing interns.
For more information about this program, please go to http://orau.org/amwd/