US military officials were forced to ground all F-35s for a second time in a little over a month following a runway fire at Eglin Air Force Base in Florida.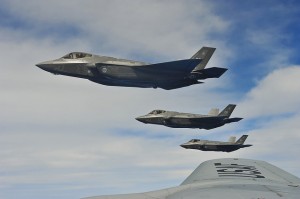 Pentagon's costliest weapon program — the $398 billion F-35 Joint Strike Fighter program — had been derailed by a number of cost-related problems and delays over the past few years, the latest being an in-flight oil leak that triggered mandatory fleetwide inspections of the jets about a month ago.
The runway fire incident, which involved one of the fighter jets at Eglin Air Force Base in Florida, saw the Air Force and Navy issue directives on Thursday ordering the suspension of all F-35 flights until further notice.
According to the article on Daily Mail, the Pentagon has yet to pinpoint the cause of the fire, which occurred as a pilot was preparing for takeoff. The pilot was not injured.
"Additional inspections of F-35 engines have been ordered, and return to flight will be determined based on inspection results and analysis of engineering data," the Defense Department said in a brief statement issued late on Thursday.
Engine maker Pratt & Whitney said in a statement that it was working closely with Air Force officials who are investigating the fire and are inspecting all engines in the fleet.
Lockheed Martin, the leading contractor for the F-35 program, is also working with investigators to see if the problem was caused by some of the components it makes for the planes.
Australia is planning to buy 58 F-35 fighters and a spokesman for Australia's Defense Minister David Johnston said that the problems facing the Joint Strike Fighter Program would not result in cancelling the order.
"Single engine fighters are operated by many air forces and Defense remains confident the F-35 JSF will be reliable and safe," he said.
According to the article on CNN, the F-35 is due to make a much-anticipated appearance at the international air show at Farnborough airport in Hampshire, England in the coming weeks.