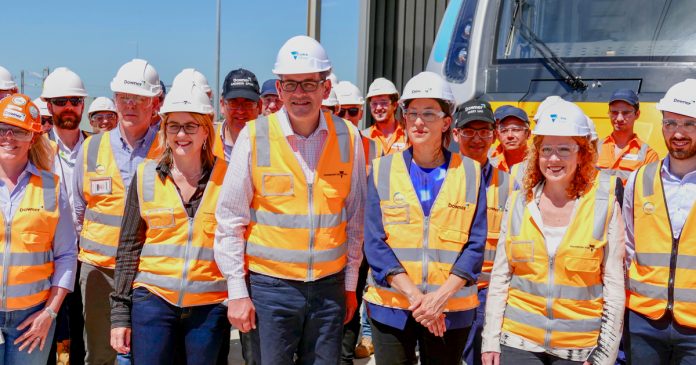 The first of Victoria's 65 new trains is set to undergo safety testing at the newly built train maintenance depot in Pakenham East ahead of entering service from the middle of next year on the Cranbourne/Pakenham lines.
The new train is part of the largest train order in Victoria's history which is creating 1,100 high-skilled jobs throughout the supply chain.
The High Capacity Metro Trains Project is being delivered by the Evolution Rail consortium, comprising Downer Rail, CRRC, and Plenary, under a $2.3 billion contract announced in mid-2016.
The contract includes a 60% local content requirement and a strong industry participation plan that requires 7% of jobs in the project to be allocated for workers that face barriers to employment and 15% for apprentices.
Bogie frames have been built in Bendigo, traction and electrical systems made in Morwell, interior components from Hallam, gearboxes from Altona, wheelchair ramps from Braeside and air-conditioning units made in Derrimut.
The trains are being assembled at Downer's Newport manufacturing facility which underwent a $16 million upgrade to answer the demands of a project of such magnitude.
Premier Daniel Andrews said Melbourne is getting ready for its new train fleet with major infrastructure upgrades – including an overhaul of power and signalling – to continue along the corridor throughout December.
"We're getting on with removing level crossings, delivering bigger, better trains and creating local jobs along the way," Mr Andrews added.
Minister for Transport Infrastructure Jacinta Allan said Victoria's bigger trains will allow room for 20% more passengers to reduce overcrowding and will deliver a more reliable service for Melbourne's south east and Gippsland from 2019.
"Between upgrading decade old signalling, removing every level crossing on the Cranbourne and Pakenham line – we're doing the work to boost safety, free up traffic and run more trains more often," the Minister concluded.
Image credit: https://www.premier.vic.gov.au