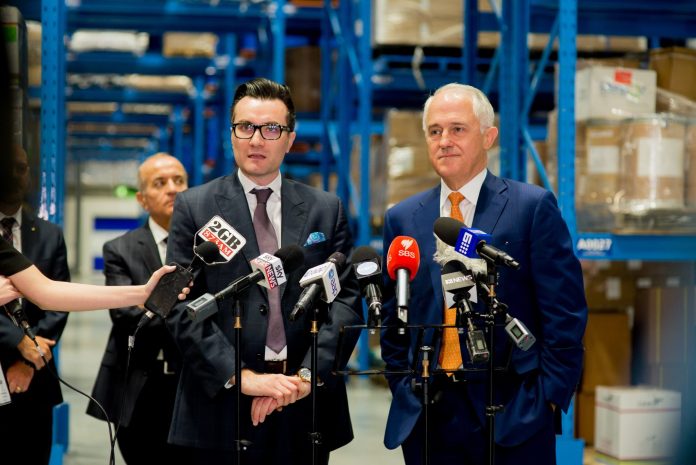 Vitex Pharmaceuticals, a contract manufacturer of Australian-made vitamins and supplements, has opened a new, state-of-the-art manufacturing plant in Sydney's East Creek.
The A$100 million facility, which was officially opened Prime Minister Turnbull, is expected to create about 420 jobs in western Sydney.
"I congratulate Vitex Pharmaceuticals on this major investment in jobs in Western Sydney. I'm proud that my Government's policies have created an additional 355 000 jobs in the past year," Mr Turnbull said.
"The drive and innovation of businesses like Vitex have made this extraordinary jobs growth possible and this exciting new facility is no exception."
Vitex CEO and Co-Founder Dr Aniss Chami said the 26,000 square metre facility will help the company to satisfy the growing demand for its products both locally and internationally.
"The continuing demand for Australian-made vitamins, supplements and wellness products continues to grow both domestically and from emerging markets such as China and South-East Asia," Mr Chami noted.
"Vitex's vision is to become a world-leading Australian-owned pharmaceutical manufacturer and represent the country on the global stage."
He said the company was looking to strengthen its position in the A$1.4 billion vitamin and supplementary industry, which is expected to grow at an annualised 3.9% over the next five years.
"Our new plant is the nation's largest tablet and soft gel capsule contract manufacturing site for complementary medicine and we are well-positioned to keep pace with the rapidly expanding export markets," Dr Chami continued.
"Through discussions with our partners and industry stakeholders locally and throughout the world, it is evident just how important the reputation of high quality Australian-made medicine is in leading the future of manufacturing and the growth of the local economy. As one of the very few Australian-owned and operated contract manufacturers in this industry, we take this responsibility seriously because we recognise the impact our business has on our community, clients and consumers."
Established in 1989 by Mr Elie Chami, Vitex Pharmaceuticals is a 100% Australian-owned and family operated company that formulates and manufactures a wide variety of vitamins, minerals, herbal and nutritional supplements including tablets, soft gel capsules, two-piece hard gel capsules and powders.
Today, the company is led by Dr Aniss G.E. Chami, who graduated from Macquarie University and is one of the youngest CEOs in the company's history.
Image provided