Global scooter manufacturing and distribution group Vmoto Limited has entered into a joint venture agreement with its long standing Original Equipment Manufacture (OEM) customer PowerEagle.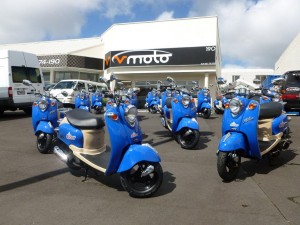 The agreement will cement the business relationship between the two companies, securing long term production and providing significant potential to both parties.
Vmoto has been producing units for PowerEagle on an OEM basis since 2012. In total, 140,218 units have been produced under this Strategic Cooperation Agreement between the two companies during this period.
The JV will see Vmoto and PowerEagle acquire a 100% interest in an existing company nominated by PowerEagle, with Vmoto to own 51% and PowerEagle 49% in the JV company.
Under the agreement, all PowerEagle's existing electric vehicle business and operations will be merged and transferred into the JV company.
Vmoto's Managing Director Charles Chen said the growth in PowerEagle production year on year since 2012 and the ability to capitalise on the extensive PowerEagle distribution channel for Vmoto's own products made a compelling case for the JV.
"With the proven track record, we look forward to working with PowerEagle for the long term. The decision to have all PowerEagle production going forward closer to the distributorships in and around Shanghai is very important, saving logistic costs and giving distributors far more efficiency for products and aftermarket support as well as other OEM opportunities in Shanghai," Mr Chen said.
"We have spent considerable time talking to the distributors in understanding their expected unit sales for 2016 and believe 100,000 units in achievable. As 2016 will be the JV's first year of operations, higher level of marketing, promotional, sales and staff costs are expected to be incurred and therefore a more accurate forecast can only be provided in second quarter of 2016."
Vmoto will contribute the costs associated with commencing the JV and moving associated infrastructure to the new Shanghai facility, estimated to be approximately A$650,000. Power Eagle will contribute all patents and certificates for all of its products and models to the JV.
Vmoto will also acquire 100% of the PowerEagle trademark for a consideration of A$2 million by issuing shares in two tranches.
The company said that 50% of the shares will be issued in January 2016 – at an issue price of 30 cents per share – and the remaining 50% will be issued in January 2017 at an issue price equal to the volume weighted average price of Vmoto shares for the 14 trading days prior the date of issue of the second tranche.
It is expected that the JV structure will be completed and operational by 1 January 2016.