Minister for Higher Education and Skills Nick Wakeling announced on Friday that the new South Eastern Workforce Development Centre in Dandenong and the North Western Workforce Development Centre in Broadmeadows will provide access and support for workers directly affected by demise of the local manufacturing sector.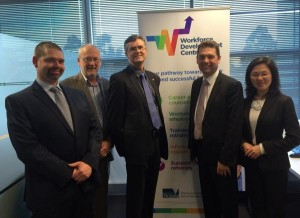 The two centres will be funded through a $30 million package intended to support the workers in the automotive and supply chain sector.
The package was outlined in the 2014–15 Victorian State Budget.
Automotive supply chain workers directly affected by the closure of manufacturing operations by Holden, Ford and Toyota, will be provided with retraining opportunities so they can transition to new jobs within the areas of the economy that are set to grow.
Workers will have access to careers information, training, workshops and referrals to other support services.
"About 60 per cent of Victoria's automotive supply chain companies are located in Melbourne's south-eastern suburbs and this centre will offer significant support for workers to transition into new jobs within growing areas of the economy," Mr Wakeling said in a media release.
"The Napthine Government is investing a record $1.2 billion a year in vocational education and training, up almost 50 per cent from Labor's last budget in 2010. We have worked hard to fix Labor's bungled reforms of the training sector by ensuring that training funding is directed into areas of value to the economy. In Victoria our industry participation model has ensured 72 per cent of training is now in areas of skills shortage and employment growth – more than ever before."