Livestock processing company Northern Co-operate Meat Company (NCMC) has contracted Brisbane-based food facilities designer Wiley to upgrade and expand its facilities in Casino to help its many operators meet increased demand for premium Australian meat.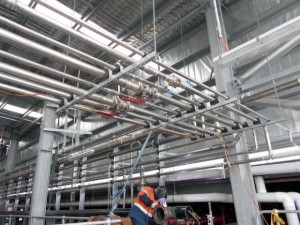 The 4 stage project will see Wiley design and construct a new state-of-the-art cold chain management facility and a new beef knocking box and race system. Additionally, Wiley will also design, supply and install a steam repair and relocation and upgrade the Tannery wastewater treatment plant.
NCMC Chief Executive Officer Simon Stahl said his company chose Wiley to undertake the project because of their specialist knowledge of the demanding standards of food safety and hygiene.
"We have more than 100 operators who use our facilities in Casino to process their livestock. Our main focus is to provide them with efficient facilities using a highly trained workforce and specialised equipment to service all major global markets including Australia, the USA, China, Japan, Korea, European Union, Halal and organic markets," Mr Stahl said in a media statement.
"The knocking box and race system are a pivotal part of our abattoir and will set the rhythm for the rest of the facility. Wiley have experience in designing to international standards of animal welfare and this design complied with design principles created by US animal welfare expert Dr Temple Grandin. We look forward to our continued work with Wiley which began earlier this year."
Wiley Senior Project Manager Barry Murphy said he was pleased that the selected building footprint and equipment will allow NCMC to expand and modify their operations in the future.
"Our multidisciplinary team has drawn upon nearly a century of food industry experience to design and deliver highly innovative and best practice solutions in line with NCMC's budget and timeframes. For their new cold chain management facility, NCMC wanted to freeze and chill all beef and veal cartons onsite, reduce the transportation of products offsite, and improve staff and product flows throughout the facility," Mr Murphy said.
"The design we came up with improves carton management, increases storage capacity on site, and improves load-out capabilities, ultimately reducing manual handling, forklift movements, and creating a safer environment for all workers."
The 4 stage project is expected to be completed in 1 year.