Singaporean food giant Wilmar Holdings and bid partner First Pacific are expected to proceed with a $1.3 billion takeover of Australia's leading food company Goodman Fielder despite the target's reported $405 million loss for the past financial year.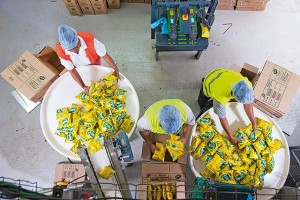 The loss is attributed to the non-cash impairments of $358 million on the value of its banking and grocery divisions,which had been flagged in the market last month, the $97 million loss on the sale of its biscuit, meat and pizza divisions, as well as on restructuring costs, as the company sought to rationalise its manufacturing base.
According to The Australian, the charges bring the amount of write-downs announced by Goodman over the past three years to around $1.2 billion.
The company was also subjected to higher manufacturing costs as plant breakdowns meant it had to spend additional cash to realise customer orders from other facilities.
Furthermore, its Australian grocery business was struggling as newly introduced products failed to gain traction with customers.
"This is a disappointing result in terms of where the company had expected to be at this point in the strategic plan," said Goodman Chief Chris Delaney, adding the negatives facing the company were not all one-off items, with surging milk and wheat costs unable to be recouped through higher selling prices.
"We've seen a record increase in the farmgate milk price as well as higher Aussie dollar wheat pricing," he said.
However, Mr Delaney said that he did not expect Goodman's dire financial results for the year ended to discourage Wilmar and First Pacific from proceeding with their takeover offer.
"The bidders as part of their due diligence process have had access to a lot of information about the company … they were aware of how we had guided the market and what our expectations were as much as any other shareholder," he said.
Mr Delaney said the takeover was yet to receive regulatory clearance from the Foreign Investment Review Board, and was now expected to be voted on by shareholders in late November rather than early in the month as previously expected.