The Australian Made Campaign is urging the Coalition Government to show its support for country-of-origin branding laws by recognising and promoting its importance.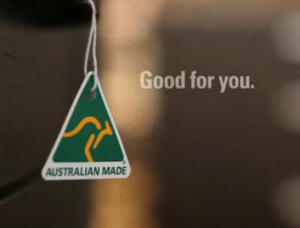 The not-for-profit organisation, which administers the iconic green-and-gold Australian Made, Australian Grown logo, said in a media release that they are calling on the newly elected government both to support local businesses and restore consumer confidence in the important aspect of the Australian labelling system.
"Australia enjoys a strong 'nation brand' at both the domestic and international level and being recognised as Aussie in the marketplace can be a very powerful and positive asset. It would seem therefore that a stronger focus on country-of-origin branding would help support our manufacturers, farmers and processors where it really counts – in the marketplace," the Australian Made Campaign said in the statement.
"It makes good sense to use the iconic green-and-gold Australian Made, Australian Grown kangaroo logo to do that."
Australian Made encouraged the use of the AMAG logo as it welcomed Australia's first National Food Plan, the Government's roadmap that sets the direction for policy of food into the future.
According to the National Food Plan's Executive Summary, the Plan aims to harvest the opportunities by focusing on four priority areas: growing exports, maintaining a productive food industry, securing food in all Australian homes while educating people about the food system, and producing food sustainably.
In a statement in May Australian Made Chief Executive Ian Harrison said it is pleasing that the government recognised the importance of the AMAG logo and its role in building the Australian brand in Asia.
"The logo has been used extensively in export markets around the world for all of its 27 years and is readily identified with Australia – and its clean, green environment and high health and safety standards – which is exactly what you want a country-of-origin symbol to do, particularly in Asia," he said.
The AMAG logo is Australia's registered country-of-origin certification trade mark for genuine Australian products and produce. It is registered in USA and China and has recently been formally trademarked in South Korea. It allows Australian exporters to have a symbol which can be used on their genuine Aussie products in the said countries.
Australian Made said it looks forward to working closely with the new government and hopes for jobs, better career opportunities and an improved future for all Australians.
"There is more than enough public benefit associated with the AMAG logo and the work of the campaign behind it to justify a much deeper, more strategic partnership between it and the Government," said the organisation.