Workers at brake pad manufacturer FMP have emerged as winners in the exhausting battle with the company management following an all out strike.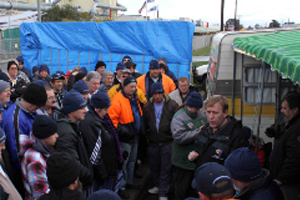 Workers were able to vote up a new union agreement which discarded the employers' attempt to dismantle classifications designed to protect current pay and promotion structure.
According to a report on AMWU, the agreement was approved by a majority of 170 AMWU members at the Ballarat factory in Victoria. It guarantees and preserves the right to take an annual leave and long service leave, along with all existing wages and conditions.
The company's persistent efforts to slip through a stipulation in the agreement which would enable them to evade leave rights and classification levels resulted in a mass strike which entered into its fourth week before the company pulled out.
AMWU organizer Colin Muir pointed out that FMP had misjudged the situation and lost nearly $2 million due to the strike and the dramatic slow-down in production, while trying to cut down expenses which would have amounted to a maximum of $200,000 gain.
"That was unnecessary, there should be more respect for our members in future," he said.
Workers accused the FMP management of foul play when trying to remove a key clause of the agreement. According to them, the management pretended that the removal of the clause would not result in any loss of wages and conditions.
AMWU members are sure that the FMP's intention was to slash the pay and demote any worker qualified on a machine which had been replaced by updated technology.
The workers also demanded a back pay to the start of 2013, when their agreement expired.
The company complied with the demands to ask its shareholders to approve bringing forward two years of pay rises by six months in order to compensate for the pay raise lost.
Nevertheless, Mr. Muir said members will keep stepping on the company's toes to make sure that they carry through the payments for 2013 and 2014.
"The members have wound back all attacks on their classifications and won pay rises but that doesn't mean they will be sitting back and accepting the company's assurances on anything," Mr. Muir said.