Melbourne-based company Natures Organics has returned to the services of Toyota after a five year break.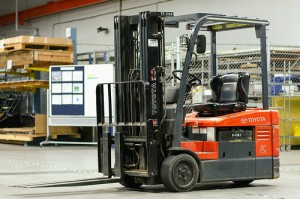 A press release featured on Toyota Material Handling has announced that Natures Organics has purchased 12 new 1.8–tonne and 2.5 tonne payload Toyota 32-8FG25 forklifts, replacing the existing rental units that had been in service for five years.
Prior to using rental units from another manufacturer, the company had used Toyota forklifts.
Warehouse Manager Steven Nadj said the company was very pleased about the recent reunion with Toyota, not only because of their high-quality products and dedication, but also because of their strong after-buy support and regular and timely servicing.
"We are glad to go back to Toyota forklifts for the reliability and versatility," Warehouse Manager Steven Nadj said.
"Regular monthly servicing and strong after-sales support means our forklift fleet will rarely be out of service."
"We also wanted to deal directly with the manufacturer/supplier and not go through an agent."
Mr. Nadj added that the forklifts had already been customized to accommodate narrow drive-in racking.
According to him, the vehicles will be used to load and unload pallets of its range of more than 40 products available in the major super markets across the world. The company's palette production line includes laundry, dish-washing, household cleaning, as well as skin and hair care products.
Toyota Material Handling Australia (TMHA) offers a broad range of Toyota's internal combustion and battery electric counter-balance forklifts, among other warehouse lifting equipment, such as BT Lift truck and Raymond warehouse equipment.
Natural Organics employs over 130 highly skilled workers fully dedicated to creating and manufacturing sustainable product alternatives.
The company's use of environmentally responsible formulas in the quest for finding alternatives to dangerous chemical ingredients has seen Natures Organics grow to produce 40 million units per year.