Growing interest from China about meat from Australia's trademark animal has sparked serious debate between exporters and government officials as to the prospect of selling kangaroo meat in the growing Chinese market.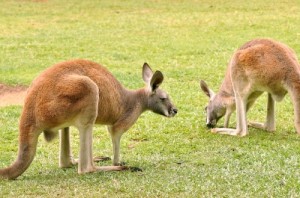 According to an article featured on Reuters, recent boom in Kangaroo population and farmers' cry for bigger cull in order to free up grazing space for the cattle have provided the necessary impetus for raising the question.
Australia is already a major exporter of red meat in China with shipments worth A$ 616 million in the 2012/13 season.
Latest estimates show that growing Chinese middle class would prompt an increase in demand for meat of nearly 17% over the next eight years, presenting Australia's meat industry with potentially lucrative opportunity.
Recent comments from Agriculture Minister Barnaby Joyce gave clear indication on where the Government stands with regard to selling kangaroo meat to the Chinese.
"This is something that ticks a whole range of boxes," Agriculture Minister Barnaby Joyce told the Australian Broadcasting Corp.
"I'm going to try and look at further discussions with the Chinese because I think there is a big prospect for a market there."
A 2008 Government survey showed that only 5-15% of all Australians eat kangaroo meat, whereas the Chinese are well known for their "exotic" cuisine which includes cat, rat and dog meat and they would certainly be far more open to try out the kangaroo meat.
Ray Borda, founder and managing director of Macro Meats, said that gaining access to the Chinese markets would be huge for the meat industry and added that the Chinese were very interested in the idea.
Australian supermarkets sell kangaroo meat at the price of A$20 per kg which is 30-50% less than beef, but Maestro Meats and its new partner, the Chinese New Hope Group Ltd, have developed a strategy to sell the product at a premium price by promoting its high-protein low-fat value and wooing the customers by limiting its supply.
"Our strategy will see us place kangaroo only in high-end butchers, not in supermarkets. If the market was to open tomorrow, we would enter without much fanfare," said Mr. Borda.