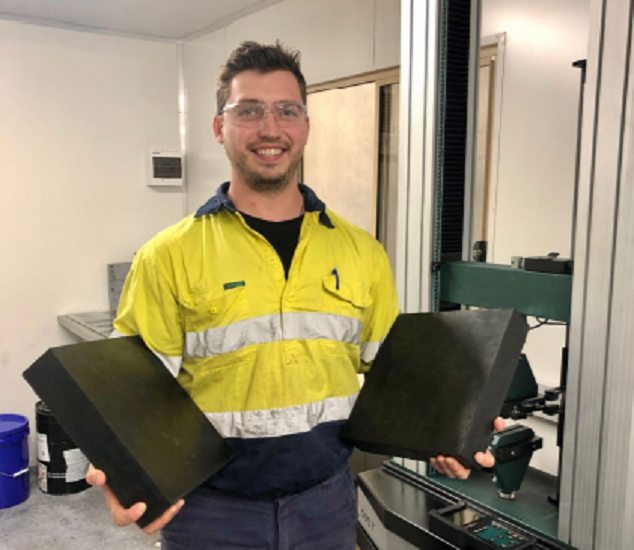 Advanced materials company First Graphene Limited (FGR) has conducted a laboratory and commercial scale tests on its PureGRAPH powders which demonstrated that a low addition rate of PureGRAPH into a rubber compound significantly improves rubber polymers used in the mining sector.
The Perth-based company, which is looking to incorporate PureGRAPH into rubber compounds for applications in the mining sector, worked with an experienced rubber consultant in Perth and an established Malaysian rubber processor to understand the science associated with the compounds used in the mining screen and wear media markets.
To leverage customer interest, FGR concentrated on the compound most commonly used in the mining screen media market, with potential to adapt the findings into other sacrificial wear-liner rubber materials across the industry.
Having completed laboratory testing – which demonstrated the benefits for numerous graphene enhanced rubber compounds – it proceeded to carry out commercial scale tests to better simulate commercial rubber compounding and demonstrate the benefits of graphene under this environment.
Using the Malaysian partner's commercial production process line, FGR conducted a production scale run of a control rubber with the desired mechanical properties, both with and without the addition of PureGRAPH.
The compounded rubber was then subjected to mechanical testing, which showed that a low addition rate of PureGRAPH into the rubber compound results in substantial improvement in abrasion resistance and tear strength.
First Graphene Managing Director, Craig McGuckin described the results from the extensive test work as 'encouraging'.
"The initial work demonstrates a low dosage of PureGRAPH® provides improvements over the base material most commonly used for the mining screen media market," Mr McGuckin said.
"Further tests will be undertaken with the PureGRAPH® compounded rubber for both mining screen and sacrificial wear media, as this is a large market and one in which we are actively engaged with both suppliers and end users.
"The results so far provide the platform to introduce PureGRAPH® into other compounded rubber materials both in industrial and domestic use."
According to the company, client compounded PureGRAPH enhanced rubber screens are currently in field trials in the mining industry in WA.
FGR is also conducting further laboratory test work on additional rubber compounds and processing techniques focussing on improved compound dispersion and fire-retardant applications.
Image credit: https://firstgraphene.net/