Defence contractor Thales Australia has selected Steyr Mannlicher's SL40 grenade launcher as its preferred choice for Thales's new EF88 rifle which is currently being developed for the Australian Defence Force (ADF).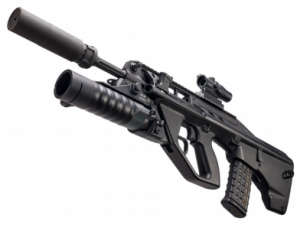 According to the media release, the agreement was reached after the Austrian manufacturer's SL40 underwent an extensive testing process. The lightweight launcher which is about 1.025kg, can be fitted to the EF88 and all its variants.
Thales said the side-opening grenade launcher features a double action trigger, lever operated safety catch and 180mm barrel. It can be fitted in seconds by soldiers in the field without any specialist tools.
Thales is developing the EF88 rifle for Australia's LAND 125 program, with an F90 export range complementing the offering. The SL40 will also be available as part of the Thales F90 offering, according to the media release.
In September 2013, Thales Australia's subsidiary Australian Munitions and Singapore Technologies Kinetics announced a partnership to jointly develop and manufacture 40mm low-velocity air-bursting ammunition for the Australian and New Zealand markets.
Under the agreement Australian Munitions, which is the largest supplier of explosives and munitions in the country, will manufacture the extended-range ammunition at its factory in Benalla, Victoria.
The 40mm ammunition will be integrated with Thales Australia's in-service F88SA2 assault rifle, as well as the new EF88, according to Australian Munitions' Executive General Manager Kevin Wall.
Thales Australia is a trusted partner of the Australian military and also serves commercial sectors ranging from air traffic management to security systems and services. The company employs around 3,200 people in over 35 sites across the country, and recorded revenues of AUD 1 billion in 2012.