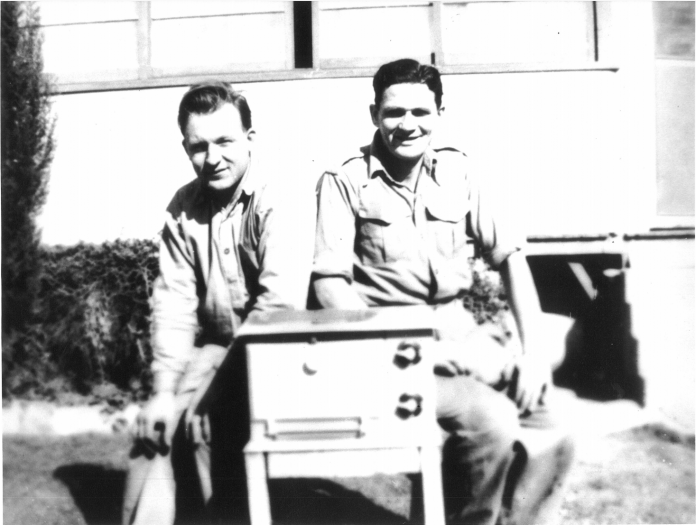 Davell's current owner offers insights into the origins and recent history of the successful family business and how it reflects the journey of Australian manufacturing.
The right ingredients for early success
When an electrician, Ross Davies and a pastry chef, Thomas Bidewell joined forces to manufacture electric stovettes after the Second World War, the Sutherland Shire was a very different place. Brenton Gray, the present owner of Davell Products commented that in 1946 the Sutherland Shire was undeveloped and offered endless opportunities. Land was in plentiful supply and mainly used for market gardens, so there were great prospects for small local manufacturers to purchase land, build a factory and start a business.
Davies and Bidewell saw in the post-war housing boom a market for small electric stoves. Their fledgling company, then named Illawarra Manufacturing Co Pty Limited, began manufacturing electric stovettes. The popular stovette was a good match for the newly built Australian homes that ran on electricity and no longer required wood-burning stoves. Brenton points out that the new homes of the post-war era were relatively modest, "After the war people didn't have much, so Australians weren't living in large houses. The compact stove suited the small kitchens and were economical with electricity."
The original Davell factory was housed in an old 'army style' shed called an American igloo. At times, 100 employees worked on-site assembling Davell's products.
As time progressed, the name changed to Davell Products Pty Limited and the sons of both Davies (Alan and Esmond) and Bidewell (Stanley and Brian) entered the business to continue the legacy. They introduced upright ovens and bench top stoves to the market being the biggest seller to the then County Councils.
A popular slogan that was used to introduce the new range of ovens and stoves was "Cook Each Day the Davell Way".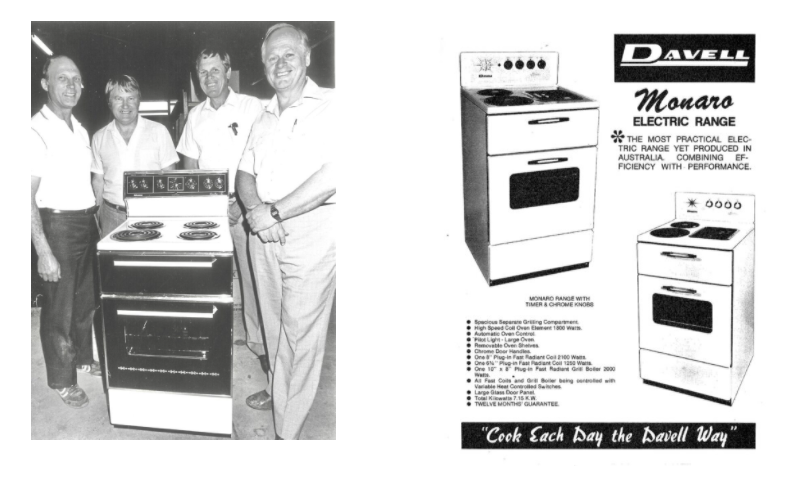 Other manufactured products included index card cabinets and drying cabinets.
A NSW Government contract for making card cabinets kept the business ticking over for three decades.
Times have certainly changed but in the pre-computer era, pull-out drawers for index cards filed alphabetically were critical to administration in most offices.
The stove business was sold in 1987 to St George Ranges when, at the same time, tooling was purchased from Wormald to make lockers, cabinets, adjustable steel shelving and mobile shelving (compactus) units.
The next phase of growth
In 1998 Brenton (son-in-law of Brian Bidewell) and the current manufacturing manager of Davell Scott Brew, purchased Davell with a vision to build the business and revamp operations.
Progress was slow but steady, Brenton recalls, "All of the old hard tooled machines were replaced with updated second hand machinery including a CNC turret punch which greatly improved the flow of work through the factory.
"When Scott and I took over we started to change a lot of products, says Brenton. "It used to be that you could have any colour you wanted as long as it was grey or beige! We introduced more colours." They expanded their range to include Services Lockers, which were specifically designed for all emergency service organisations, laptop and mobile phone charging lockers, Z-Door lockers, lockers with clear doors, perforated lockers and various custom-made products.
In 2005 Scott sold his shareholding to Brenton but stayed on as manufacturing manager.
The GFC and the strength of the Davell team
The Global Financial Crisis of 2007–2008 impacted the local firm but Davell withstood it with a combination of flexibility and tenacity. For Brenton, employees are the heart of the business and keeping core employees, such as experienced machine operators, was essential. He says, "Without your core people you haven't got a business." Davell had to operate with a skeleton crew, sometimes just four days a week during the GFC. "We battled our way through, says Brenton, "but it wasn't easy."
At that time, everyone in Australia was primarily focused on purchasing low-cost solutions. However, long-term that led to issues with the quality of the cheaply made overseas goods.
Davell maintained its approach to advertising and marketing and made headway as business picked up after the GFC. Brenton recalls, "We never stopped marketing primarily to keep our name out there."
Quality products for Australian schools, technology and innovation
Davell focused their marketing to the education sector as the company realised there was great potential for specialised products to suit individual school's needs.
They have continually invested in the school locker range, adding features for durability and usability. After completing a job for Illawarra Grammar School, word of mouth helped them secure contracts for Ravenswood at Gordon, Brigidine College at St Ives and Abbotsleigh at Wahroonga, and many more schools followed.
Over the decades, Davell has ensured that new technology has been integrated into the business. Their machinery includes the latest CNC bending machines, turret punch and a brand new state of the art powder coating plant which was only commissioned this month.
Davell's locker and storage range has also evolved to feature new devices which include charging options and many lock variations such as combination locks, electronic locks and now feature 'Cloud-based' locks.
Davell's ongoing commitment to Australian manufacturing throughout Covid-19 and beyond
The Covid-19 pandemic resulted in tougher global conditions, but Davell was in an excellent position to ride out the period of adversity without drastic downsizing. "We never closed the doors and were open every day," says Brenton. "We were pretty lucky in that we don't rely on overseas raw materials, so we weren't directly affected."
A critical factor in avoiding pandemic supply issues was Davell's longstanding policy of supporting Australian owned companies by sourcing raw materials in Australia. Brenton says, "We use local steel distributors who hold stock for us, as do our lock suppliers."
This 75-year-old Kirrawee company, it turns out, is well equipped to meet challenges and to thrive. Brenton lists the significant factors in their success: "A great group of people who work for us. Always listening to customers and finding out what they want, and giving them what they want. A quality product. Offering products with a Lifetime Warranty and being Australian-made.
Seventy five years old is actually a drawcard, "Having 75 years of experience – gives people confidence."The times now suit Australian manufacturers. In 2010 Davell applied for and was granted the Australian Made logo. "I firmly believe in the Australian Made campaign," says Brenton. "We display the Australian made logo on all of our products."
Willingness for private and government consumers to buy locally is giving the business greater assurance. "There seems to be more confidence in local manufacturers and buying Australian-made products", says Brenton. In his opinion, the future outlook is encouraging. "I really do see things changing. Before, it was up and down, now, it is a lot more consistent. Davell will keep improving and keep coming up with new ideas for what the market wants including accreditation of both ISO: 9001 (Quality) and ISO:14001 (Environment) which the company has recently attained."
75 years and the future is bright
Davell has reached its 75th year milestone in excellent condition, with 25 employees now working at the same location as when the company began in 1946.
Brenton's advice to other local business owners is, "Do the right thing by the customer, make a quality product, be upfront with everybody and be innovative."
For this proud Australian manufacturing company, the future looks bright.