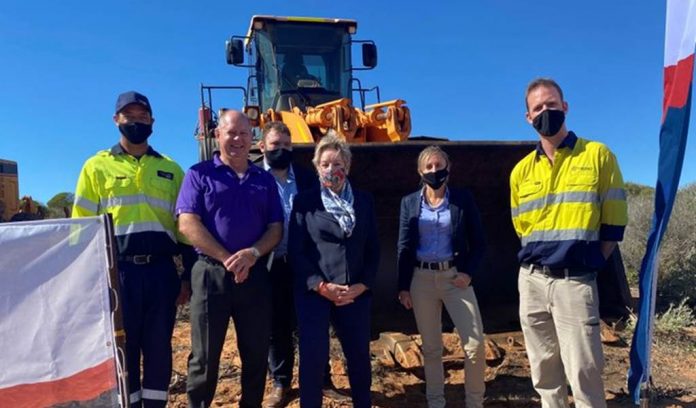 Hydrogen Industry Minister Alannah MacTiernan turned the first sod on Australia's first community hydrogen power plant, located in Denham, Western Australia.
The $9.3 million hydrogen project, which has received $2.6 million funding from ARENA, will see Horizon Power install a 704-kilowatt (kW) solar farm, 348kW hydrogen electrolyser and a 100kW fuel cell allowing the production and storage of hydrogen in Denham.
Minister MacTiernan said the remote microgrid project will deliver electricity into the Denham hybrid power system and will generate 526 MWh of renewable electricity per year, enough to power 100 residential households in Denham annually.
"The demonstration project in Denham is leading the rollout of hydrogen plants in community-based remote microgrids and has the potential to be implemented across the State to benefit a wide range of small towns and communities," the Minister continued.
"Investing in renewable hydrogen sends a clear message to the industry that we are serious about Western Australia being powered by clean energy."
Horizon Power CEO Stephanie Unwin said the company has made the strategic decision to upgrade its existing power station in Denham rather than build a new power station.
"Upgrades will be made to the existing station to support the integration of the renewable hydrogen demonstration plant which will test the technical capability of hydrogen as a dispatchable power source in remote microgrids across regional Western Australia," Ms Unwin said.
"Horizon Power's hydrogen plant will demonstrate how hydrogen can reliably produce power for towns currently dependant on diesel fuel power systems. It will allow Horizon Power to transition our network away from higher emission generating sources and meet our target of no new diesel generation systems from 2025.
"This technology has the potential to be an environmental game changer for many remote areas of Western Australia, and allow greater uptake of reliable cleaner, greener renewable energy sources in the future."
The project, which has also received $5.7 million from the WA Government as part of its WA Recovery Plan, is expected to be commissioned and operational by early 2022.
Image credit: https://www.horizonpower.com.au/