A $150,000 grant announced by the Victorian Coalition Government for Latrobe Valley-based Australian Trailer Manufacturers will see the company's workforce almost double as nine new jobs are created with the help of the funding.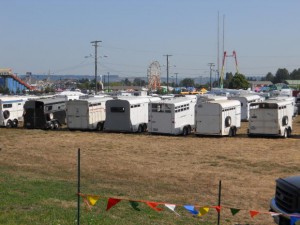 The grant comes from the Latrobe Valley Industry and Infrastructure Fund, part of the $1 billion Regional Growth Fund. ATM will now have 20 skilled manufacturing workers as it expands to a new, bigger site in town.
Deputy Premier and Minister for Regional and Rural Development Peter Ryan said ATM's new state-of-the-art workshop will contain eight work bays for pre-fabrication and manufacturing of trailers so the operations could move faster and more efficiently.
MP for Narracan Gary Blackwood also welcomed the announcement.
"The design of the new workshop will limit heavy lifting. Each trailer will remain in a single bay through the entire building process, whereas at the old premises, trailers had to be moved around to different areas in the workshop for different stages of the process," Mr Blackwood said.
According to Mr Ryan the $15 million Latrobe Valley Industry and Infrastructure Fund had invested $150,000, with the balance of the $922,000 project being provided by Australian Trailer Manufacturers.
"The LVIIF is part of our $1 billion Regional Growth Fund, which is investing in community-led projects to strategically drive jobs, investment and innovation in rural and regional Victoria.
"The Regional Growth Fund has provided more than $365 million to support over 1250 projects across regional and rural Victoria, leveraging $1.5 billion in total investment."