Toyota is celebrating the sale of its 50,000th hybrid car in Australia as the rest of the world rides the wave of eco-friendly vehicles, proving that the technology has definitely become mainstream.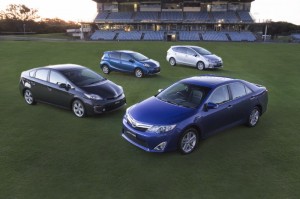 The Camry model, which is locally manufactured, accounts for more than half of the Japanese car maker's 50,671  hybrids sold in Australia. This makes the Camry the best-selling hybrid vehicle in the country so far, according to a media release.
Overall, hybrid cars have accounted for more than four per cent of Toyota's total sales in each of the past two years.
"The performance and fuel economy offered by Toyota's hybrid cars explain why they have become a mainstream choice for local motorists," Toyota Australia's executive director sales and marketing Tony Cramb said.
"If Toyota's hybrid cars were viewed as a stand-alone franchise, it would rank in the top 20 for sales – ahead of well-established brands such as Chrysler, Land Rover, Peugeot, Renault and Volvo."
"Toyota's success with hybrid cars in Australia mirrors the global situation where sales have accelerated to well over one million a year."
It took Toyota a little over seven years to sell its 10,000th hybrid when it was selling Prius alone, but the company was able to sell 10,000 Toyota hybrids in just the last 14 months. More than 18,600 Prius hybrids have been sold in Australia since it was introduced in 2001, and it remains the world's best-selling hybrid car.
Meanwhile, global sales of Toyota and Lexus hybrid vehicles passed a cumulative total of six million in December 2013, with the latest one million sales achieved in just nine months.
Toyota Motor Corporation estimates its hybrid vehicles have cut carbon-dioxide emissions by more than 41 million tonnes and have saved at least 15 million kilolitres of fuel compared with petrol-only vehicles of similar size.