BAE Systems, the British multinational defence contractor, has been awarded a five-year contract to repair, maintain and modernise nine US Navy destroyers and cruisers in Pearl Harbour, Hawaii.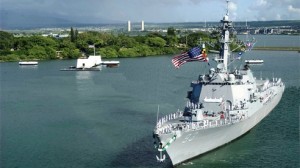 According to the press release by BAE Systems, the contract — which is a continuation of a previous seven-year contract — was awarded by Naval Sea Systems Command and incorporates work on the USS Chafee, USS John Paul Jones, USS Chung-Hoon, USS Hopper, USS Michael Murphy, USS O'Kane, USS Halsey, USS Milius and USS Preble.
"Our sustained, outstanding performance on the first MSMO award paved the way for this follow-on contract," said Bill Clifford, President of Ship Repair at BAE Systems.
"The Navy clearly recognizes our achievements and success in maintaining and modernising these ships to ensure the readiness of the fleet. This award speaks volumes about the dedication and commitment of our highly skilled workforce, as well as our island suppliers and small businesses."
The contract is another in a line of contracts that reinforce the company's "trusted partnership" with the Navy.
With over 300 successfully completed cruiser and destroyer availabilities in the last 20 years, BAE Systems continues to grow its reputation as a global provider of defence and security products.
The company operates in key markets all over the world — Australia, India, the Kingdom of Saudi Arabia, the United Kingdom and the United States, employing around 88,200 skilled professionals.
For more information about the company, visit their website at www.baesystems.com