Dairy Australia has released its fortnightly update on the developments in the dairy markets both home and abroad based on the latest available trade data in the sector.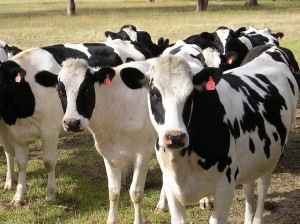 With regard to the developments on the global market, the report found that March was a record month for Chinese milk powder imports, with both whole milk powder (WMP) and skimmed milk powder (SMP) volumes the highest ever for that month, standing at 109,000 tonnes and 29,000 tonnes, respectively.
New Zealand remains the biggest supplier of the two products by volume, although the growth in SMP shipments came from US, European and Australian sources.
Half way across the globe, UK dairy farmers saw reductions in their farm gate prices as processors react to falling commodity returns.  Muller UK, Arla and Dairy Cest, three of the country's biggest dairy producers, have all announced reductions of between 0.4 and 1.6 pence per litre (AUD$0.01–3/L), or 1–5% as a result of rising global milk production.
On the domestic market, Murray Goulburn (MG) announced its fifth step-up of the 2013/14 season, $0.09 kg fat and $0.19 kg protein, for a current 'weighted-average available price' of $6.66 kg/MS and full season average price of $6.85 kg/MS, subject to fluctuations in international dairy commodity prices and exchange rates; MG joint venture Tasmanian Dairy Products (TDP) announced the same step-up, taking its current average price to $6.50–$6.55 kg/MS; Longwarry Food Park followed, also announcing its fifth step-up: $0.09 kg fat and $0.19 kg protein.
The company's CFO David Noonan said at the PAC Partners Agribusiness Conference earlier this week that the company remained focused on achieving growth through cost savings, operational efficiencies, product mix improvement, milk supply growth and capital structure changes.
The Australian Financial Review reported that Peters Ice Cream private equity owners Pacific Equity market have appointed Macquarie Bank and Morgan Stanley to look at a potential ASX listing of the ice cream business, with MG, Bain and China's Yili said to be interested for a potential trade sale.
The fortnightly update also revealed that Pactum Dairy Group, Aussie Farmers Direct (AFD) and Norco are looking to expand presence and customer base in China. Pactum is expecting to produce 100 million litres per year of UHT in its newly opened Victorian plant, with China's Bright Foods estimated to take one quarter of Pactum's production volume in the first year, while AFD is set to start producing yogurt for the domestic market by June and decide later whether to introduce it in the Singaporean and Chinese markets.
Norco, Dairy Connect NSW and Peloris Global Sourcing (PGS) announced that they had managed to achieve their goal of getting fresh milk to China in 7 days. Norco plans on having commercial shipments to China within weeks to build up more than 20 MM litres of fresh milk in China within 12 months.
Elsewhere, Tasmanian Pure Foods — owners of the Bellamy's Organic brand which includes infant formula, is also looking at an IPO, managed by Wilson HTM, to fund further capex and product development.