Australia's Commonwealth Scientific and Industrial Research Organisation (CSIRO) has achieved a breakthrough for renewable energy with the creation of "supercritical" steam from solar energy.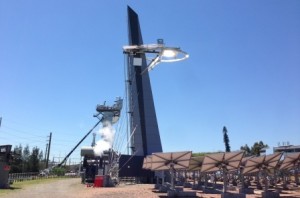 Demonstrated at CSIRO's Energy Centre in Newcastle, the A$ 9.7 million project is supported by the Australian Renewable Energy Agency (ARENA) and is part of a broader collaboration with Abengoa Solar — the largest supplier of solar thermal electricity in the world.
According to the press release by CSIRO, researchers have managed to hit a steam of 23.5 mega Pascals (MPa) at a temperature of 570 degrees Celsius.
Almost 90% of Australia's electricity comes from fossil fuel, while only a handful of power stations use supercritical steam which is created when water is pressurised at a large amount of force and heated with solar radiation.
"It's like breaking the sound barrier; this step change proves solar has the potential to compete with the peak performance capabilities of fossil fuel sources. Instead of relying on burning fossil fuels to produce supercritical steam, this breakthrough demonstrates that the power plants of the future could instead be using the free, zero emission energy of the sun to achieve the same result," said Dr Alex Wonhas, CSIRO's Energy Director.
"This breakthrough brings solar thermal energy a step closer to cost competitiveness with fossil fuel generated power," said Ivor Frischknecht, ARENA's CEO.
An article on ABC reveals the project supports the claim that the sun, rather than coal or gas, could eventually be used to provide stations with energy.
"Well certainly that's what we'd like to think," said Robbie McNaughton, leader of the project.
"It's important to remember that what we've done is really the first step along a fairly long path still in demonstrating that we can actually do these things with solar technologies."