A small terrace house in the suburb of Glebe, Sydney has been fitted with BlueScope's innovative PV thermal rooftop system — the world's first system which combines thin film solar panels with thermal capabilities to generate both heat and electricity.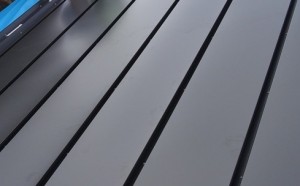 According to the article on PV Magazine, the array combines typical building integrated photovoltaics (BIPV) with building integrated photovoltaic-thermal (BIPV-T) materials to create a roofing system that can produce both heat and solar electricity.
The landmark rooftop generates electricity in the same way as solar PV modules, while the heat is trapped and distributed between the two layers for use in water and space heating.
Hailed as a product of the future which could one day be sold on Australian rooftops, the PV thermal rooftop system has cost BlueScope A$5 million (US$4.7 million), with the Australian Renewable Energy Agency (ARENA) contributing to the project with a $2.3 million grant and expert assistance.
"Today we are witnessing an exciting new technology solution moving from the lab to be prototyped on everyday Australian rooftops for the first time. The old corrugated steel roof on this house in Glebe has been completely replaced with the first integrated photovoltaic (PV) thermal system in Australia, generating reliable renewable energy for the residents. A tile roof in the Illawarra region has also been replaced with the integrated PV system, demonstrating its versatility," ARENA CEO Ivor Frischknecht said in a statement.
"In addition to PV panels, an innovative thermal duct system warms and cools air to supplement air conditioning in the homes. These first installations are an important step as the technology moves towards commercialisation and cost competitiveness with conventional rooftop PV."
According to the article on RenewEconomy, the system had been designed to provide a low cost system that would reduce installation and energy costs, as BlueScope is preparing for the anticipated boom in the building integrated photovoltaic market, which is expected to increase 10-fold across the globe in coming years.
"The market motivator is energy reduction, and the motivator for integration into rooftop design is a reduction of material costs and in building heating costs. That way we can have it all done in one," Dr Troy Coyle, Head of Coating Product Development at Bluescope, told RenewEconomy in 2012 when the project was announced.
"This is a great display of Australian ingenuity and an example of industry leveraging government funding to make breakthroughs that may lead to advanced manufacturing and export opportunities," said Australia's parliamentary secretary to the Federal Minister for Industry Bob Baldwin during the launch.