Autonomous Energy, a leading Australian sustainable energy engineering company, has completed the installation of an enormous 500kW solar photovoltaic (PV) power system at Toyota Motor Corporation Australia's manufacturing plant in Melbourne.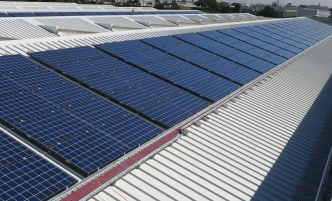 According to the media release by Autonomous Energy, the roof of Toyota Australia's Engine Factory at its Altona North plant has been covered with 2000 Kyocera solar panels, which makes it the largest roof-mounted solar photovoltaic (PV) system in Victoria and the third largest, nationally.
"One of the exciting things about this project was the number of firsts for solar in Australia," Says Mario Como, Production Engineer at Toyota Australia.
"For example we are the first site to directly connect a solar array to an industrial site's internal high-voltage network via a single 500kW Central Inverter and transformer."
The 500kW central inverter and transformer were manufactured by leading power engineering company ABB, the inverter being the largest installed in Australia to date.
"From day one the priorities for this project have been safety and quality," said Mark Gadd, Managing Director at Autonomous Energy.
"Working closely with Toyota's engineers we have set a new standard in the Australian solar industry for safety management and installation quality."
Kyocera solar modules in the system are said to produce enough renewable energy to power the equivalent of 200 households, which is equal to permanently removing 570 small cars from the road.
"Kyocera has been manufacturing solar panels for nearly 40 years now, and this is the largest installation of Kyocera solar panels in Australia to date," said George Phani, National Manager at Kyocera Solar.
"This installation is an excellent example to other businesses that large scale solar installations should be implemented not only to help the environment, but also to benefit the bottom line."
The project was supported by a government co-investment via AusIndustry from the Clean Technology Investment Program, which has since been scrapped by the Abbott Government.