Specialist financier and Australia's export credit agency, Efic, has released its latest Export Monitor that sheds light on the effect global supply chains have on Australia's export profile, the country's record rural exports and the opportunities arising from China's urbanisation.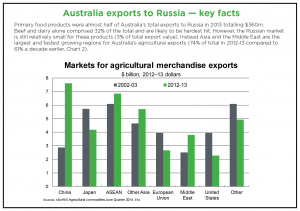 According to the media release by Efic, the US and Europe are Australia's largest export markets when international supply chains are taken into account, services are Australia's largest export sector, while rural exports are set to ease the country's economic transition with a rapid growth of 12% per year over the past four years, or 56% in total.
"Record rural exports are easing Australia's economic transition. Despite less favourable growing conditions and Russian sanctions, new opportunities in premium niche markets will continue to support overall volumes," said Efic's senior economist Cassandra Winzenried.
"ABARES predicts earnings from farm exports will reach a record $41 billion in 2013-14, supported by higher farm production and elevated export prices. However, farm export earnings are expected to fall 6% to $38.5 billion next year due to less favourable growing conditions. Russian sanctions will add to these headwinds, but new opportunities in niche markets will support overall volumes."
According to her, Australian exporters will have a chance to take advantage of the newly created opportunities arising from the urbanisation and industrialisation of China, with the latest Chinese reforms expected to move 100 million people from rural to urban areas by 2020, "at a cost of US$6.8 trillion".
"A project of this scale is unprecedented. China's industrialisation has already boosted demand for Australia's commodity exports, but an increased focus on creating cleaner, greener and more liveable cities will generate new opportunities for non-resources exporters," she said.
"As important as China is, it needs to be kept in perspective. New RBA research finds that when international supply chains are taken into account, the US and Europe are Australia's largest export markets, and services are our largest export sector. These findings challenge official trade data and conventional wisdom that China is Australia's most important export destination and mining our largest export sector. Increasingly Australian exports are inputs into processed goods bound for the North Atlantic via Factory Asia. Therefore, growing momentum in the US economy is good news for exporters."