LG Innotek, the leading global components manufacturer, announced last week that it is the first company in the world to develop a "rare earth-free" motor for the automotive dual-clutch transmission (DCT) which maintains the existing performance and size, but weighs a lot less.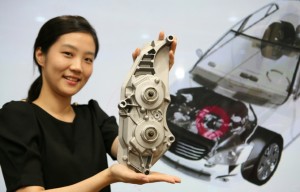 The production of the new DCT motor and associated manufacturing and quality control equipment is set to begin in 2015, the company revealed in a press release.
"The motor marks an important breakthrough since it will ease concerns among automakers about their reliance on uncertain rare earth supplies. Rare earth elements are usually used in materials for automotive motors, but they are difficult to source and are subject to sharp price increases when supplies dwindle. There are only small and concentrated reserves worldwide of the rare earth minerals, which are often used to provide magnetic properties for automotive motors. This new motor also reflects LG Innotek's efforts to protect the environment since the mining, refining and disposal of rare earth minerals can cause environmental damage," the company stated.
The motor for DCT is a core part that moves the two clutches fast and correctly so that the dual-clutch automotive transmission can change gear swiftly and softly according to the driving state of the vehicle.
The motor is said to be able to improve efficiency by 12% over the general automotive transmission and by around 5% over the manual transmission.
"Minerals like Neodymium (Nd) and Dysprosium (Dy) are considered essential in the manufacture of DCT motors due to their magnetic properties. The automotive industry has been studying alternatives to rare earth minerals, but it has faced difficulties because other materials were not as suitable," it says in the press release.
The company spent 2 years on research and development; the new motor will be produced at LG Innotek's automotive components plant in Mexico.
Since it improves both driving performance and fuel efficiency, the motor is expected to be a great hit on the market.