The Australian Manufacturing Workers' Union (AMWU) has voiced its concern about the Abbott Government's decision to exclude Australian-based companies from tendering for the construction of two large supply ships for the Royal Australian Navy.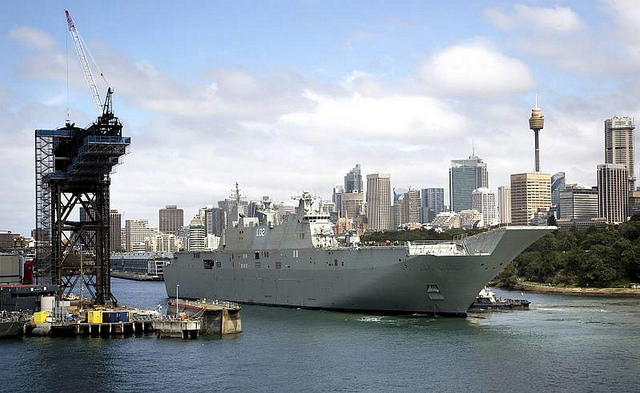 It comes in response to the claims made by Federal Defence Minister David Johnston that Australian shipyards lacked the capacity and level of labour productivity needed to build the new ships.
"We assess that currently Australia is not in a position to manufacture those vessels, 20,000 tonnes and above. Accordingly, we will see those ships produced either in Spain or in South Korea," Senator Johnston told ABC radio in June.
AMWU Assistant national Secretary Glenn Thompson said the exclusion of Australian companies from the tender process was damaging the domestic shipbuilding industry and urged the Prime Minister Tony Abbott and Defence Minister David Johnson to reverse the decision and honour their election promise to build the Navy's next generation of 12 submarines in Australia.
He said the AMWU was firmly behind Australian ship-building firms demanding the government build two new Navy supply ships in the country to keep the industry from entering the "valley of death".
"BAE Systems Maritime is one of Australia's most capable shipyards, a world-class facility here in Melbourne, employing more than a thousand workers. It is a vital part of this nation's national security, with a highly skilled workforce. But these workers and BAE as a company face an uncertain future because of the Federal Government's short-sighted policy to build Navy ships overseas," Mr Thompson said in a media release.
"Workers at BAE took part in the construction of the ANZAC Class frigate. They are currently building our Air Warfare Destroyers and the new helicopter landing ships, the Landing Helicopter Dock project. If Australian shipyards fail to win new businesses, its not just workers at BAE Systems Maritime who will suffer. The entire supply chain that services BAE"s ship building operations will be hit hard. That's another 775 Australian businesses which employ thousands more workers, generating almost $120 million a year for the Australian economy."
He said work on the Air Warfare Destroyer and Landing Helicopter dock project would be completed  next year, and warned that the country would lose the valuable expertise provided by skilled workers should Australian shipyards fail to secure new projects soon.
"Australia's future security depends on a strong and viable Naval ship building industry. We can't afford to let the Abbott Government compromise our national security," Mr Thompson said.