If re-elected, the Napthine Coalition Government will commit a further $500 million to the $1 billion Regional Growth Fund and extend it to 2022.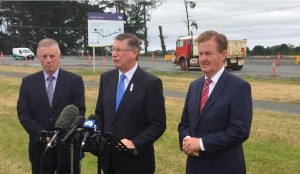 According to the media release by Premier Denis Napthine, the Regional Growth Fund has supported around 1,800 projects, has leveraged over $2 billion worth of investment, and has created almost 23,000 jobs across regional and rural Victoria, including 6,000 direct full-time jobs, 11,700 indirect jobs, and nearly 5000 construction jobs.
"The Regional Growth Fund invests in important local projects and provides flexible funding to help communities fill gaps in services and infrastructure and, in so doing, creates new job opportunities," the Premier said in Ballarat yesterday.
"It has now invested in more than 1,800 projects including the riverfront redevelopment at Mildura, major expansions at Burra Foods and Murray Goulburn in Gippsland and helped secure the future of SPC in Shepparton. Regional Victoria is better off thanks to investments made through our Regional Growth Fund and I am proud to announce regional Victoria will continue to benefit from this important fund over the next eight years."
Minister for Regional and Rural Development Peter Ryan is responsible for managing the Regional Growth Fund.
"When the regions are doing well the whole state prospers, and that is why we created the Regional Growth Fund," Mr Ryan said.
"Our Regional Growth Fund sits over and above normal budgetary allocations to deliver for regional communities all-year-round. Through our Regional Growth Fund we are supporting regional communities to improve their local services, facilities and infrastructure, ensuring they are well placed to accommodate future population growth."
According to him, the Regional Growth Fund will continue to be structured in a way to provide maximum benefits to regional communities.
Funding streams will include the Economic Infrastructure Program, Regional Cities Infrastructure Program, Regional Innovation and Jobs Precincts Program, Transitioning Regions Program, Putting Locals First Program, Local Government Infrastructure Program, and Stronger Local Communities Program.