The Blacktown City Council (BCC) has joined forces with the Australian Made Campaign and is the first city in New South Wales to commit to local industry by parenting up with the Campaign.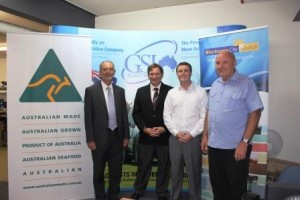 BCC and Australian Made will collaborate to facilitate investment, economic development and prosperity within the municipality.
Following the announcement made earlier this month regarding the joint research program with the University of Western Sydney, BCC is currently undertaking a number of other initiatives to help local manufacturers remain competitive.
"Given our positioning, we want to raise awareness of the potential for growth and prosperity in this sector, and to help to facilitate it. Our relationship with the Australian Made Campaign plays an important part in this. We are proud to have over 1000 manufacturing businesses from various sectors in our municipality, 68% of which are small businesses," said Blacktown City Mayor, Stephen Bali.
"There is no doubt the sector is presented with many challenges. Many of our local manufacturing sectors are meeting the challenge. They are innovating and transitioning into the era of advanced manufacturing. Blacktown City Council wants to celebrate this success and play our part to support our local industry."
Australian Made Campaign Chief Executive, Ian Harrison said that the City of Blacktown "set a good example for other councils, and hoped that more Councils in the region would follow suit".
The Blacktown economy is heavily reliant on the manufacturing sector with the industry employing 12% of the local 111,000-strong workforce.
More than 2000 businesses are currently registered to use the Australian Made, Australian Grown certification trade mark, which is administered and promoted by the not-for-profit Australian Made Campaign, and can be found on more than 15,000 products sold here and around the world.
Blacktown City's GSL Electronics is one of those businesses.
"We are an award-winning, family-owned and run business that has been designing and manufacturing electrical and solar products for trucks, emergency vehicles, 4WDs, caravans, camper trailers and other vehicles for over 20 years," GSL's National Sales Manager, David Wilkinson, said.
"We design our products for Australian conditions and we pride ourselves on our high Australian content, and welcome the news that the Blacktown City Council is getting behind the Australian Made Campaign."
To register your business or Council with the Australian Made Campaign, visit www.australianmade.com.au.