Industry leaders presented the proposed Australian Innovation & Manufacturing (AIM) Incentive at Parliament in Canberra yesterday.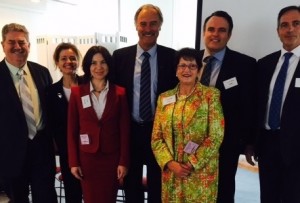 The AIM – which is basically a "patent" or "innovation box"-style tax incentive policy – is set to boost Australia's manufacturing and knowledge-based industries and international competitiveness.
According to the media release, the AIM Incentive model is collectively proposed by a number of Australia's leading innovators, manufacturers and exporters, including AusBiotech (Australia's biotechnology industry organisation), Cook Medical Australia (the world's largest privately owned medical device company), the Export Council of Australia (the peak Industry body for the Australian export community)and the Medical Technology Association of Australia (the representative body for manufacturers, exporters and suppliers of medical technology products used in the diagnosis, prevention, treatment and management of disease and disability).
"Over the last 12 months we have gathered a significant amount of support from industry for the proposed AIM Incentive as a policy that will foster entrepreneurship, innovation and commercialisation translating into job creation and economic growth. We are encouraged by the Government's acknowledgement of the proposed AIM Incentive here today, and we look forward to further discussions on how our model could help to secure Australia's ongoing international competitiveness," said Barry Thomas, Managing Director of Cook Medical Australia at the event.
"Australia's biotech industry is an increasingly significant contributor to the economy with the very real potential to be a key driver of growth in the future. Out message to the Government today is that the AIM Incentive will support these local innovators and manufacturers, so they can maintain their global competitiveness and cultivate domestic innovation," said Dr Anna Lavelle, Chief Executive of AusBiotech.
The industry leaders are looking to the Government to incorporate the AIM Incentive into the current review of Australia's tax system.
"The relative success of our export-driven economy relies on Australia's manufacturers being able to compete globally. It is our hope the Government sees the proposed AIM Incentive as a viable solution to the challenge of retaining IP domestically, allowing our manufacturers to continually operate in and export from Australia," said Lisa McAuley of The Export Council of Australia.
"If we are to maximise Australia's skills base and global reputation for outstanding innovation in the medical technology sector, we must address the environment and outflow of IP overseas. We are delighted the Government is listening about how the proposed AIM Incentive could support Australian ideas being commercialised and manufactured locally, with the aim of growing the export market, indeed the economy, for this crucial and positive sector," said Susi Tegen, Chief Executive of the Medical Technology Association of Australia.
The UK, France, Netherlands and China have already adopted similar "patent" or "innovation box"-style tax incentive policies.