With the demise of the automotive industry, Australia can't afford to turn its back on an industry that can secure jobs and deliver projects – the Australian Manufacturing Workers' Union (AMWU) states.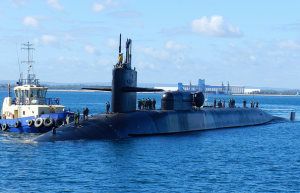 The AMWU has been very vocal regarding the latest development in the shipbuilding industry, claiming that outsourcing the shipbuilding program could "sink" Australian shipyards.
A leaked expert White-Winter report – obtained by The Australian – which warns of serious job losses and damage to the country's strategic capabilities if the Government doesn't act immediately has enraged the AMWU which now calls for Defence Minister David Johnston's resignation.
Last week, the AMWU called on the Government to take notice of its own expert report and act immediately to stem the shipbuilding "Valley of Death".
"The Government has been sitting on this Report for months. The Defence Minister has had this warning from his own experts for months. But he's done nothing – he's hidden the report from the public to avoid facing up to reality. Instead of stepping up and working with industry we've seen him continue to undermine workers and defence strategic capability through his own bumbling and inaction. He should now do the honourable thing and resign," said AMWU Assistant National Secretary Glenn Thompson in a media release.
"The Government needs to act immediately to stop a gaping hole in Australia's naval strategic capability. If they don't, more than 1000 jobs could be lost next year at BAE Williamstown and 780 jobs at Forgacs in Newcastle when work finishes on block construction for the three AWDs. The Government needs to take note of their own expert report – the best way to ensure that the industry survives and thrives into the future is to speed up a plan to build a new fleet of frigates to replace the Anzac ships and to commit to building new submarines in Australia."
According to the report, the so-called "Valley of Death" is real and will be reached in 2015. Around 1500–2000 skilled employees across three states will lose their jobs unless appropriate measures are undertaken.
The best way to ensure the survival of the industry is to slow the completion of the Air Warfare Destroyer project and speed up the plan to build a new fleet of frigates to replace the Anzac ships, establishing a rolling employment program from one project to the next.
According to The Australian, the report also found that the structure of the AWD Alliance — ASC, the Defence Materiel Org­anisation and Raytheon Australia — was flawed from the start, with no one organisation assuming prime responsibility.
"The Defence Minister now has the opportunity to show real leadership and commit to a strategic rolling build – this would be a great decision for the future, and give him a positive end to a disastrous year," said Mr Thompson.