The Hatzimihail Group – a family-run business with stakes in a number of technological portfolios – has given Australian car industry a new lease on life with the announcement that it would provide aspiring Joss with a $35 million in funding to build its locally made supercars.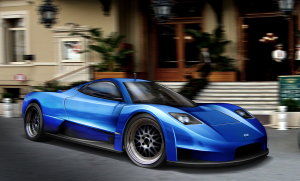 Matt Thomas, founder of Joss, told CarAdvice that the backing would allow the company to list publicly in 2015 and to raise capital from wider markets and expand its existing business.
"We have signed a partnership with the Hatzimihail Group, which is gigantic for us. That's going to be bigger than Ben-Hur for us," Mr Thomas said.
"So people are saying we've got $35 million dollars, no [we don't], we're going to a public listing very early next year… to raise the bigger money. There's a lot of expense in going to a listing, which is what part of the whole agreement is with the Hatzimihail Group."
The deal saw the Hatzimihail Group acquire 60% stake in the company, with Thomas retaining the remaining 40% plus the design responsibilities.
"Matthew raised a million bucks to make his first race car and then he tried to raise another half a million dollars, but he didn't succeed and in the past four years I wanted to open my own automobile company. One of my investigators called me a few months ago and said 'Alex, there's a company in Melbourne called JOSS supercar'. So I contacted Matthew immediately and he said he had an overseas buyer for $35 million. Walk in, walk out," Mr Hatzimihail told Neo Cosmos.
The supercar, which will be designed in in Melbourne and manufactured in Brisbane, will be powered by a V8 twin-turbo 5.5 litre engine purchased form one of the biggest automobile companies in Germany and do zero to 100km/h in 1.6 seconds, with a top speed of a 340km/h.
According to Neokosmos, it will be built completely from carbon fibre, with its interior design and seating produced in Hatzimihail's native Alice Springs.
Mr Thomas, who has set his sights on conquering the international market, said the investment was not a risky one, despite the rising costs of manufacturing in Australia which saw Ford, Holden and Toyota announce their departure from the country by 2017.
"Manufacturing is very expensive if it was just a normal vehicle, but because it is a luxury vehicle and because most of our clientele comes from overseas, when it comes to luxury vehicles it doesn't matter what the labour cost is because we're only building 30 to 50 vehicles a year," he said.
With regards to the timeline, Mr Thomas said the track version will be released in early 2016, with the track version to come "around a year after that."
"There's a further development period… so it's a very tight schedule and a lot of work to be done. But we really want to get this initial car out and really show people what we're all about and show the level that we want to be at."
Joss' supercar will sell for an estimated $600,000.