Fed Cup Captain Alicia Molik welcomed the 2015 finalists in the national Australian Made Foundation Cup – the only national tennis tournament for junior players from rural and regional Australia.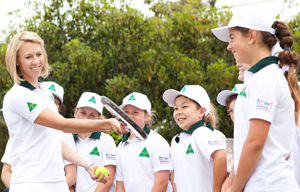 The Australian Made Summer of Tennis will be held at Royal South Yarra Lawn Tennis Club next month.
"It is important that we help to create opportunities for our kids, so they can grow up to be whatever they want to be – encouraging participation in sport and support for local industry is something I am incredibly passionate about," Ms Molik said.
According to the media release by Australian Made, the most outstanding male and female player in the Australian Made Foundation Cup will win $1,000 each to further their tennis skills and development.
"The Australian Made Summer of Tennis celebrates local talent – and Australia has a lot to be proud of. We produce some of the best quality products in the world, and our home-grown athletes are no exception," Australian Made Campaign Chief Executive, Ian Harrison, said.
"Some of the biggest names in our sport have played in the Australian Made Foundation Cup, and this year's finalists are a fresh crop of talent we are thrilled to see play," Fed Cup Foundation President, Judy Dalton, said.
Numerous events celebrating the achievements of women in tennis will be held in the first weeks of the Apia International in Sydney and the Australian Open in Melbourne as part of the initiative.
Click here to enter this year's Australian Made Summer of Tennis competition.
For more information, please go to www.australianmade.com.au.