3D printing and additive manufacturing solutions giant Stratasys has introduced a 14-week 3D printing technology course for students interested in professions revolutionised by the technology.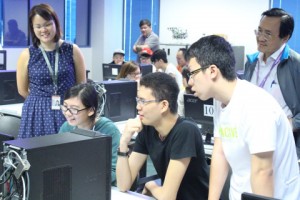 The "Introduction to 3D Printing: From Design to Fabrication" course is free for download and includes a guide, presentations, STL files of 3D models and grading support.
Now, educators can prepare secondary and post-secondary students from all over the world for careers in 3D printing, while the students themselves will get a hands-on experience as they create 3D printing projects from start to finish.
"We notice a strong demand coming from the industry for a curriculum focusing on 3D printing," said Shelly Linor, director of global education for Stratasys.
"Educators around the world now have an opportunity to make a big impact by using and contributing to our curriculum. They will also be able to better prepare their students for future careers as 3D printing is becoming an intrinsic part of the design and manufacturing processes in leading companies."
While Stratasys recommends FDM and PolyJet 3D printing technologies for this course, any technology platform and any CAD software with STL support may be used.
According to the press release, Stratasys plans to add two sequential advanced courses under the theme "Something That Moves Something." These courses will cover material memory, multi-material use and 3D printing for robotics applications.
Stratasys' 3D printing curriculum is already being implemented in schools in Singapore and the US.
"The introductory material on 3D printing that Stratasys offers, from the slide presentations to the videos, were impressive. The students enjoy the hands-on activities especially the design process with 3D printing," said Ms Chee Feng Ping, a lecturer with the Temasek Polytechnic in Singapore.
"There are going to be many instructors out there who would love to teach a course in 3D printing but who simply do not have enough time to do the detailed research and to prepare professional level presentations. Stratasys has now made it much easier for any instructor to offer a college level course on the subject," said Assistant Professor Steve Chomyszak from the Wentworth Institute of Technology in Boston.
For more information about the courses, specific details or to download free materials, please visit the Stratasys Educational Curriculum page.