Koller-Craft Plastics, a leading provider of injection moulded plastic components, has added Baxter, a smart, collaborative robot, to its custom injection moulding processes that has proved to be the best automation solution for boosting its packaging process.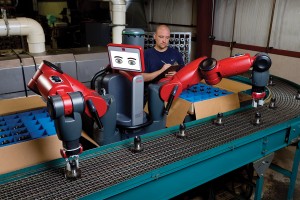 Rethink Robots' Baxter robot is driven by Intera and gives world-class manufacturers and distributors in automotive, plastics, consumer goods, electronics and numerous other industries, a workforce multiplier that optimises labour.
The Boston-based company is focused on accelerating robotics innovation in manufacturing.
"The flexibility Baxter has provided allows us to better assign our employees to positions where they are needed, improving our manufacturing processes and production significantly. Baxter's force-sensing capabilities have opened the doors for us to consider many potential applications the robot can help with. Our whole team is coming up with new ways to use the robot," said Mike Ewing, operations manager at Koller-Craft's Fenton, MO facility.
"Collaborative robots like Baxter that can adapt to real-world manufacturing environments are empowering manufacturers to incorporate them into places they've never considered before. Koller-Craft is a great example of a forward-thinking manufacturer who is tapping into the immense potential that smart robotics offer," said Jim Lawton, CMO at Rethink Robotics.